An award-winning Dover choir will be giving their Christmas concert next month - the first with their new musical director.
Soundwaves Choir, formerly the P&O Ferries Choir, will be performing at St Paul's Roman Catholic Church in Maison Dieu Road, Dover, on Sunday 11 December. Doors open at 6pm and the concert starts at 6.30pm.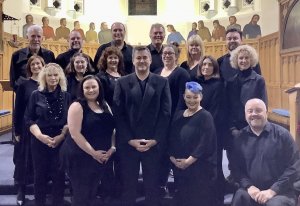 They will be directed by Peter Futcher, who became the choir's MD earlier this year. The choir also has some new members, having opened their ranks to singers from the wider community. And they are still looking for more.
The programme will include popular and traditional carols and special Christmas items, as well as festive favourites.
Tickets which are £8 or £15 for a couple, are available from choir members, on the door (cash only) or online at
www.ticketsource.co.uk/sound-waves-choir
.
It is nine years since the choir was originally formed by celebrity choir conductor Gareth Malone for his television quest to find the best workplace choir. They went on to win the final, and have performed at prestigious events both in this country and abroad, including America.
"We hope people will come and join us to start their Christmas celebrations with our blend of musical items," said one of the original choir members, soprano Julie Williamson. "We are grateful for the support we have received in the past and we look forward to welcoming friends, old and new, to this concert.
"If anyone would like to find out more about joining the choir, we would be pleased to chat with them."