A historic orchard is being restored at Russell Gardens in Dover in the latest phase of the Lottery funded restoration of Thomas Mawson's c.1900 design for Kearsney Court gardens.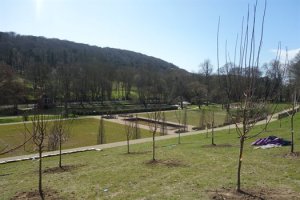 A total of sixty-three fruit trees are being planted, including a variety of apple, pear, and cherry trees. Espalier trained fruit trees have also been planted along the adjoining walled kitchen garden.
Mawson often included orchards in his landscape designs usually near the kitchen garden, describing them as "the one part of the domain above all others which speaks of seclusion, peace, quiet and rest, a close commune with nature and rural pleasures."
Thomas Mawson (1861-1933) was the foremost landscape architect of the Edwardian era. His design for Kearsney Court was one of his earliest independent commissions and a rare example of his work in the south east.
Renamed Russell Gardens in 1951 when it became a public park, the gardens are Grade II Listed in the Historic England Register of Parks & Gardens of Special Historic Interest.
The new orchard will be registered with the BBC Countryfile 'Plant Britain' initiative which aims to galvanise the nation to get planting. Around 60% of orchards have been lost since the 1960's.
Alongside its historical precedent, the orchard is also designed to encourage the local community to get involved to learn more about the trees and different varieties of fruit, and for volunteers to support its long-term maintenance.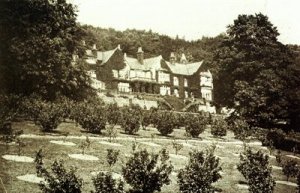 Along with the neighbouring public park, Kearsney Abbey, Dover District Council is in the final stages of a £3.1 million National Lottery funded project that has seen the restoration of both built and natural heritage across the two parks, along with a programme of improvements to visitor amenities.
Darran Solley, DDC's Parks and Open Spaces Manager, said: "We're delighted to be restoring the orchard which was a key feature of Thomas Mawson's design for Kearsney Court.
"Sourcing the trees was quite a challenge during the pandemic, but our in-house team have done a great job in planting a good variety of fruits.
"Kearsney Parks volunteers will take on the future maintenance of the orchard, which is a great way for local people to learn about important issues such as pollination, and some of the traditional fruit varieties.
"Who knows, if the crop is good enough, we may even be able to use some of the produce in the new café in Kearsney Abbey!"