Dover District Council is seeking views on the proposed route of the Dover Fastrack, a rapid bus transit (RBT) system connecting Whitfield with Dover town centre and Dover Priory railway station. Residents can find out more about the proposal and comment online at www.dover.gov.uk/fastrack
Buses bearing the Fastrack livery will have priority on the proposed express route which will include a new bus, cycle and pedestrian-only bridge across the A2 at Whitfield, and a new link road from the B&Q roundabout in Whitfield to Dover Road at Guston. The junction with Dover Road will be for buses and bicycles only.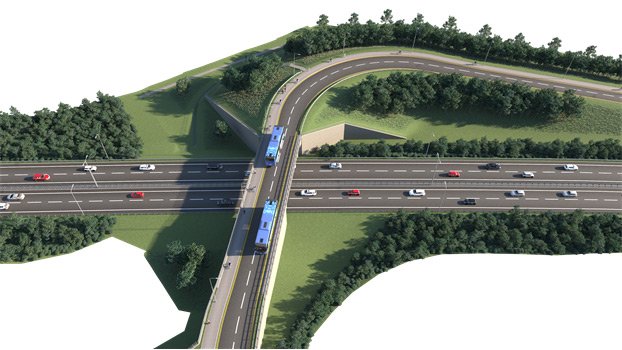 Dover Fastrack is backed by central government with £16.1m from a Homes England funding programme designed to help stimulate new housing development. DDC is working on the plans in partnership with Kent County Council.
A key part of the managed expansion of Whitfield as a place to live and work, Fastrack also supports the sustainable development of new housing at the former Connaught Barracks site, owned by Homes England.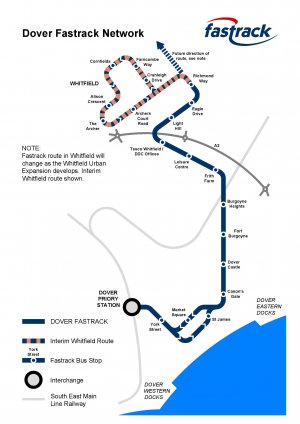 The wider route will pass through Market Square in the town centre, which is due to be redesigned as part of a £2.4m Coastal Community Fund project.
Kent County Council, as the highways authority, will consider the planning application for the development of the Fastrack route. The application will be submitted in August 2020.
A decision on the planning application is expected by the end of December 2020. Following further detailed design work, construction is expected to start mid-2021 and will take 18 months.
Cllr Nigel Collor, DDC's Cabinet Member for Transport and Licencing, said: "Fastrack has the potential to unlock development in the district by better connecting our key sites for new homes with the town centre and Dover Priory, as well as meeting our aspirations to cut carbon emissions by providing real alternatives to the car for local journeys."
KCC Cabinet Member for Highways and Transport Michael Payne said: "This project being between Dover District Council and Kent County Council shows partnership working at its best. It is public transport friendly and intends to use the Fastrack brand, itself already a proven format to give a quality service.
"People are able to find out more about this exciting scheme for Dover and give us their views on what is being proposed.
"This bus priority scheme would offer a big opportunity for the way people travel around Dover with buses having priority on the proposed express route as well as encouraging more cycling and walking in the area."
Residents can complete a
short online questionnaire
by midnight on Sunday, 26 July, email
consultation@dover.gov.uk
, or write to the Strategic Delivery Manager (Infrastructure), Dover District Council, White Cliffs Business Park, Dover, CT16 3PJ.