The Dover Co-Innovation Hub is celebrating as the Gaby Redman Design Studio, popular for its range of upcycled home décor, moves into new premises at 7 Cannon Street in Dover. The new store opens at 10am on Saturday (1 August 2020).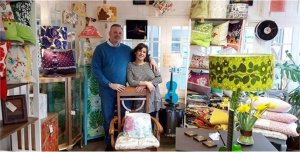 Gaby is the second start-up from the Co-Innovation Hub to start trading from their own premises. In March, Angela Hoskins opened her Preloved Plus store at 2 Cherry Tree Avenue.
The Co-Innovation Hub was launched by Dover District Council and the lottery-funded Dover Big Local in 2018 providing cost-effective incubator space for new business to grow until they are ready to expand into their own town centre premises.
There are currently 24 small businesses trading from the Co-Innovation Hub's Stembrook Lane Shopping Arcade.
Gaby Redman said: "The Co-Innovation Hub was the perfect space to grow my business. I've built up a strong customer base in Dover offering something different that combines my passion for interior design with people's desire for unique, sustainable, upcycled and recycled items.
"I am really excited to be moving into my own shop, and I look forward to welcoming everyone to the new store where I can really show off my high-end quality items."
Cllr Trevor Bartlett, Leader of Dover District Council, said: "Gaby's success shows exactly the sort of entrepreneurship that we had hoped to stimulate when we purchased the former Co-op building and created the Co-Innovation Hub together with Dover Big Local.
"We wish Gaby every success and encourage everyone to support local, shop local as our high streets re-open and we get back to business."