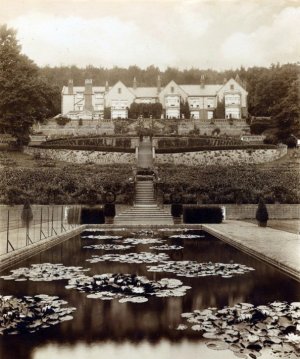 Dover District Council is recruiting two apprentices to join its National Lottery Heritage Fund project at the Kearsney Parks. The 18 month full-time apprenticeships offer a unique opportunity to be involved in one of the most exciting landscape projects in Kent with the restoration of Thomas Mawson's design for Kearsney Court, now known as Russell Gardens. Thomas Mawson (1861-1933) was a renowned Edwardian landscape architect and the Grade II listed Russell Gardens are a rare example of his work in the south east.
The apprentices will complete a Level 2 Intermediate Horticulture Apprenticeship with Plumpton College working towards a Diploma in Work-Based Horticulture.
Working alongside the project's Parks Development Officer, Park Keeper, DDC's Parks and Open Spaces team, and a landscape contractor, the apprentices will be involved with planting and maintaining a new heritage orchard, removing and replanting of herbaceous borders, creating and maintaining a chalk grassland, and woodland maintenance.
The apprentices will develop key landscaping and horticultural skills involved in the management and maintenance of historic parks and landscapes. Working in popular local parks, the apprentices will also develop communication skills with park users and visitors, volunteers, and school and college students as part of the project's community and education activities.
Cllr Trevor Bartlett, Cabinet Member for Corporate Property, said: "This is a fantastic opportunity for two local people to learn new skills and be involved in the restoration of the district's most significant heritage park."
To find out more about the Kearsney Parks project visit
www.kearsneyparks.co.uk
.
You can
apply online
by Monday, 4 March.