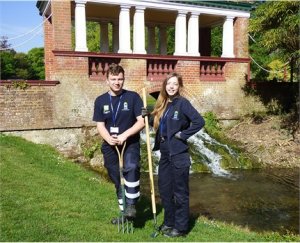 Two new horticultural apprentices have joined the Kearsney Parks project team at Dover District Council. Janiene Davenport and Joe Beaney will be learning their trade on one of the most exciting garden restoration projects in the south east as work gets underway to restore Thomas Mawson's landscape at Russell Gardens.
Thomas Mawson (1861-1933) was one of the most influential landscape architects of the Edwardian era. His c.1900 design for Kearsney Court - now known as Russell Gardens - is a rare example of his work in the south east and is Grade II listed on the Historic England Register of Historic Parks and Gardens.
The restoration of Russell Gardens, along with works to key historic features and a new café and visitor centre in Kearsney Abbey, are being funded by the National Lottery Heritage Fund and the National Lottery Community Fund.
Joe Beaney (19) who lives in Ewell Minnis, said: "I've always wanted to work at the Kearsney Parks as they play such an important part in the life of the local community. I'm looking forward to developing new skills and to helping make sure the parks look great."
Janiene Davenport (19) from Deal, said: "I really enjoy working outside. Like so many local people, the Kearsney Parks were an important part of my childhood. My grandparents are delighted that I will be playing a role in the restoration!"
The two apprentices will complete a Level 2 Intermediate Horticulture Apprenticeship with Plumpton College working towards a Diploma in Work-Based Horticulture. The apprentices will be working alongside DDC's Parks and Open Spaces team and the main landscape contractor for the restoration, Idverde UK Ltd.
Jenny Coller, Kearsney Parks Project Manager, said: "Developing new skills is a key part of the project so we're delighted to welcome Janiene and Joe to the team. With the landscape works now underway people will be able to come along and see the apprentices at work as we restore the stunning vision of Thomas Mawson."