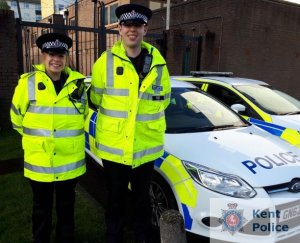 Officers from the East Kent Special Constabulary carried out an operation in Dover last month to target unsafe drivers and promote road safety.
As part of the initiative with the Driver and Vehicle Licencing Agency (DVLA), officers set up checks in several roads near to the town centre on Thursday 25 January and Friday 26 January 2018.
In total seven people were reported for traffic offences due to drivers not having insurance or a driving licence and four vehicles were seized. Those reported could now face a fine and points on their licence.
Several warnings were also issued to motorists for various minor offences including broken lights. Officers also assisted the DVLA who clamped a total of 15 vehicles for not having road tax.
Daniel Clubb, 29, of Sandwich Road in Whitfield, Dover, was also arrested and charged with drink driving, no insurance and driving whilst disqualified. He is due to appear at Folkestone Magistrates' Court next Wednesday (14 February 2018).
Special Sergeant Paul Johnson said: "These operations are extremely important in order to target motorists who may be driving dangerously or driving vehicles that are not fit to be on the road. Local residents were pleased to see us there in Dover and very supportive of the work we were doing.
"It is not just about reporting people, it's also about educating drivers. Whilst the majority of motorists drive safely, we can see that some still aren't getting the message. It is important that all road users play their part in keeping our roads safe for everyone and we will continue to run these operations on a regular basis."
Kent now has more than 300 Special Constables who are unpaid volunteers, many of whom have full-time jobs and give up at least 16 hours of their own time every month supporting regular police officers with special operations.
Anyone interested in becoming a Special Constable, to support Kent Police with a variety of work and learn new skills, can visit
www.kent.police.uk/specials
or follow
@KentSpecials
on Twitter.