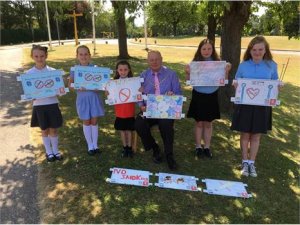 Children at primary schools around the Dover district have been congratulated by the council for their work in designing new signs discouraging people from smoking at their schools' gates.
Dover District Council secured £1,000 of Kent County Council funding to promote Smoke Free School Gates. Five schools, located in wards identified as having a higher than average number of people who smoke, set their youngsters to work in designing new signs.
On Wednesday last week (4 July 2018) the winners from three of the five schools visited the council's Whitfield offices to meet the Vice Chairman of Dover District Council, Cllr David Hannent, who presented them with the finished versions of their signs for their schools to put up at the school entrances.
Cllr Hannent congratulated the youngsters. Those attending were from Guston, Shatterlocks and Priory Fields primary schools. Pupils from Aylesham Primary and St Joseph's Roman Catholic Primary School, also at Aylesham, were unable to attend but will receive their signs at another event.
Cllr David Hannent, Vice Chairman of Dover District Council said: "The children have done some excellent work with their designs, which are sure to be eye catching and tell people not to smoke near the school gates. If one person stops smoking as a result, then that's a life saved."
KCC Director of Public Health, Andrew Scott-Clark said: "This partnership with Dover District Council and local schools is another step in our ambition to provide a smoke free environment for children and their families to enjoy. We want to help protect children from the effects of second-hand smoke, and reduce the number of children who start smoking after being influenced by those who do. Although the scheme is voluntary, we hope it will prove popular with parents and carers on the school run and we would hope to repeat it at sites across the county."