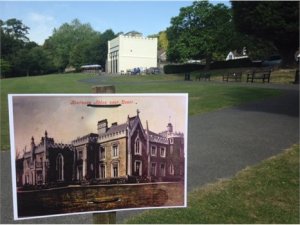 With construction work set to get underway on a new £1m café extension at Kearsney Abbey, the Kearsney Parks project team are taking the opportunity to uncover the history of the grand mansion that once graced the grounds of Kearsney Abbey, and the public are being invited to help with an archaeological dig.
Canterbury Archaeological Trust will be excavating the car park next to the old billiard room which is the only part of the former mansion still standing. The car park covers part of the site of the old mansion house that was built in the 1820s.
The Heritage Lottery funded Kearsney Parks project team wants to find out as much as they can about the layout of the old mansion house and are looking for volunteers to help. The dig is open to people aged 16 and over with beginners particularly welcome.
The dig will run from Monday 15 October until Friday 19 October and again from Monday 22 October until Friday 26 October. There are a limited number of spaces available each day. If you'd like to come along, email
kearsney.parks@dover.gov.uk
stating which days you would like to take part.
Cllr Trevor Bartlett, Cabinet Member for Corporate Property, said: "This is an excellent opportunity for local people to get involved in uncovering the history of one of the district's former grand country estates."
Keith Parfitt of the Canterbury Archaeological Trust, said: "We are greatly looking forward to seeing more of the lost nineteenth century mansion and perhaps even finding evidence for earlier activity on the site."