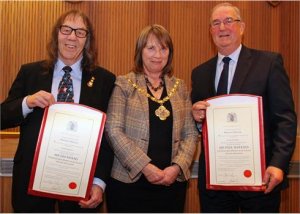 Former Dover District Councillors, Paul Watkins and Jim Hood, have been made Honorary Aldermen in recognition of almost 70 years of service to the district. The honours were confirmed at a meeting of Dover District Council last night (31 January 2018).
Paul Watkins retired from the Council in October 2017 having served as the Member for the Lower Walmer ward from 1983 to 1995, and the St Margaret's-at-Cliffe ward from1999 to 2017. He served as the Chairman of Dover District Council from 1989 to 1992, and Leader of the Council from 2003 to 2017.
Jim Hood served as the Member for the Town and Pier ward from 1976 until his retirement in 2015. He was a Cabinet Member from 2000 to 2003, Chairman of the Technical Services Committee from 1995 to 2000, and a Scrutiny Committee Chairman from 2003 to 2015.
Cllr Sue Chandler, Chairman of Dover District Council, said: "It's fitting that we recognise the contribution to the work of this Council of two of its longest serving members from both sides of the Chamber."