Members of the P&O Ferries Choir braved very wet and windy conditions to sing at the Sandgate Sea and Food Festival on Sunday.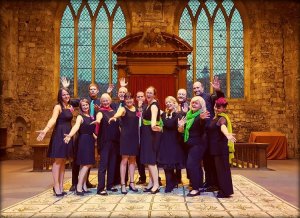 The performance came just a week after their Dover Summer Concert at St Paul's Roman Catholic Church in Maison Dieu Road, marking the fifth anniversary of the choir's formation.
It was in 2013 that staff at the Dover-based ferry company auditioned with celebrity conductor Gareth Malone to form a choir for a national competition. Six months later, millions of television viewers watched as P&O Ferries Choir beat off all the others to be named the best workplace choir. And since then, they have gone on from strength to strength.
Their usual musical director Hilary Campbell had been taken ill a couple of days before their Dover concert, so modern composer Alexandar Campkin stepped in at the last minute and conducted the choir through a range of songs, classical and modern, some old favourites as well as new additions to their repertoire.
The evening started with Son Of A Preacher Man, a tribute to Queen of Soul Aretha Franklin, who had died the previous day.
A moving performance of John Legend's All Of Me was followed by Irish Blessing, a poignant song for some members of the choir and audience.
The rest of the evening included a variety of pieces including Total Praise and Mozart's Ave Verum, as well as two of the choir's lively favourites, Ain't No Mountain High Enough and Nina Simone's Sinnerman, and a chance for the audience to join in with Leonard Cohen's Hallelujah.
As always, the choir was precise, expressive and passionate. They sang some beautiful harmonies, hit the notes with accuracy, and the audience could hear every word.
At the end of the evening, the audience learned that one of Mr Campkin's compositions is to be played at the BBC Proms in the Royal Albert Hall.
But it was only the next evening, on television, that it was revealed the piece had been commissioned for the Bournemouth Sympathy Orchestra Resound - an ensemble of disabled people - and that Mr Campkin himself suffers from multiple sclerosis.
The choir's next performance is on Saturday 8 September at 7.30pm at St Alphege Church, High Street, Whitstable.