A major new free exhibition opens at Dover Museum on Saturday (21 April 2018) to commemorate the 100th anniversary of the Zeebrugge Raid.
The exhibition complements a range of special events being organised by Dover Town Council on Monday, 23 April to commemorate the centenary of the Zeebrugge Raid.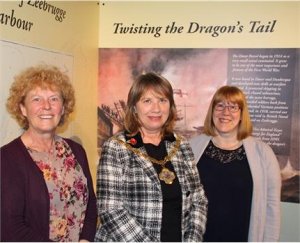 The 'Twisting The Dragon's Tail' exhibition includes contemporary accounts of the raid, with artefacts, photographs, video and interactive elements, and a range of information on the raid and the role of the Dover Patrol in keeping the Channel safe for shipping.
On St George's Day, 23 April 1918, the Dover Patrol carried out one of the most famous naval actions of the First World War, the Raid on Zeebrugge. Eleven Victoria crosses were awarded for the raids on Zeebrugge and Ostend. Before the raid, Vice Admiral Keyes signalled "St George for England" and received the reply from HMS Vindictive, "May we give the dragon's tail a damn good twist".
HMS Vindictive returned the majority of the casualties from the Zeebrugge Raid to Dover, where 156 bodies were kept in a makeshift morgue in the town's Market Hall, the site of what is now Dover Museum.
The Zeebrugge Bell has recently returned to Dover following restoration and cleaning. The Bell was given to the people of Dover by HM The King of the Belgians, Albert l, as a souvenir of the naval raid on Zeebrugge Harbour. The Zeebrugge Bell is housed at Dover's Grade l listed Maison Dieu and is struck each year by the Town Mayor at noon on St George's Day as part of the annual commemorations organised by Dover Town Council.
On 23 April 2018, the Royal Marines Heritage Trails will be launched in Deal. The 4th Battalion, Royal Marines played a pivotal role in the Raid on Zeebrugge, with many of them trained at the Depot Royal Marines in Deal.
The exhibition was researched, written and designed by Dover District Council. Entry to Dover Museum and to the exhibition is free.
For more information on the range of special events being organised in Dover on Monday 23 April, see the
Dover Town Council website
.