The latest edition of a book about Walter Tull is to be launched this weekend.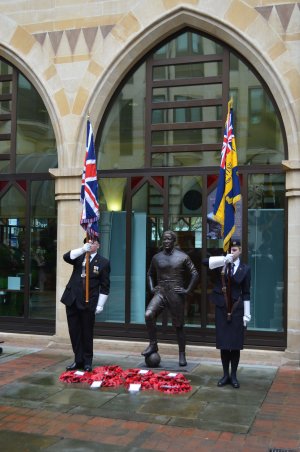 Author and biographer Phil Vasili will be at Folkestone Museum from 11am to 1pm on Saturday (14 April 2018) to give a talk and sign copies of the updated edition of his book: "Walter Tull 1888-1918, Footballer and Officer".
Walter, who was killed at the second Battle of the Somme 100 years ago last month, was one of the first black professional footballers in Britain and the first black British Army officer, being commissioned as a Second Lieutenant even though the rules said officers had to be of "pure European descent".
His life has been the subject of a television documentary and drama, and there are plans to make a film about him.
It was largely due to Mr Vasili's research that Walter's story, and his heroic actions during the First World War, came to light. He was recommended for the Military Cross, but never received it. Calls have been made to try to persuade the government to make the award posthumously, so far without success.
Walter's father, Daniel, was the son of a slave from Barbados, came to England and settled in Folkestone where he met and married Alice Palmer, who was born in Dover. Walter went to North Board School (now Mundella School) in Folkestone.
Folkestone Museum plans to explore Walter's extraordinary life in an exhibition in autumn 2018, with documents and photographs from the Tull family archive, Action for Children, who hold the archives of the children's home where Walter and his brother Edward lived following the death of both their parents, the National Army Museum and other partners.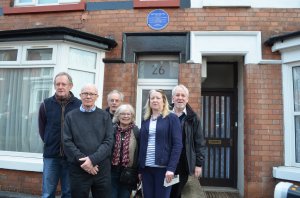 A number of Walter's relatives attended events in Northampton - where Walter played football - to mark the centenary of Walter's death. A memorial ceremony was held at Walter's statue at the Guildhall, followed by a series of talks.
The next day - the actual centenary of his death - a blue plaque was unveiled at nearby Rushden where Walter lived, and another service was held at All Saints Church in Northampton.
Among those taking part were Ed and Duncan Finlayson and Pat Justad from Scotland. They are the grandchildren of Walter's brother Edward, so Walter was their grand uncle.
Three relatives from the Palmer side of the family, Graham Tutthill from Dover who attended the weekend's events with his wife Jill, Elizabeth Coombe who used to live in Dover, went to school in Folkestone and now lives near Northampton, and Mark Bird who also lives near Northampton, met up for the first time.