The Chairman of Dover District Council formally presented Mr Thomas James Dowle with a 'Hereditary Freeman of the Town of Dover' certificate at a recent ceremony at the Council offices.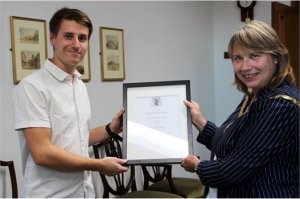 Mr Dowle and his family attended the Council offices to mark the occasion, and met the Chairman and a range of Council representatives. Mr Dowle read a special oath, and his name will be added to the Freedom Rolls for Dover, as he follows in his ancestors' footsteps, who were also Freemen.
Mr Thomas Dowle, 21, from Antelope Close, Dover said: "This is an important part of my family's history going back over 200 years, and it's an honour to come along with my family today to be made a Freeman of the Town."
Cllr Sue Chandler, Chairman of Dover District Council, said: "We are delighted to be able to continue this long history, and it was a pleasure to meet and congratulate Mr Dowle and his family."
Historically, a Freeman of Dover received special privileges, but although Dover District Council maintains the tradition of admission, where appropriately claimed, no privileges of Freedom remain today.
Dover has one of the oldest established privileges of Freemanship dating back to before the Norman Conquest. Only Freemen had jurisdiction over municipal affairs including the right to elect Mayors and, from 1623, Members of Parliament. Freemen also held the responsibility of levying taxes, administrating justice and the right to conduct business or trade within the town walls and port, and they received a 66% discount on market and other tolls.