An organisation which supports Dover Castle is looking for new members.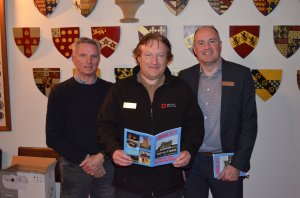 The Friends of Dover Castle was set up in 1987 and chairman Graham Hutchison said the 30th anniversary year had been "amazing" with a host of activities benefiting both members and the castle.
"My aim was to mark our 30th year in a special way and I think we have done this," said Mr Hutchison at the annual meeting held in Constable's Tower on Saturday.
To round off the celebrations, he produced a special 40-page edition of the Friends' annual booklet detailing the events that had taken place and including articles about various aspects of the castle and people involved with it.
During the year there were 13 special events and tours, including visiting areas not normally open to the public. Members also took part in Dover Carnival - winning best in class - and River Fete, supported the community remembrance event and organised a special dance performance on Palace Green.
A photography competition, two popular quiz nights and the first ever Friends of Dover Castle calendar were among the group's other activities.
Mr Hutchison thanked the staff of English Heritage, especially Becky Smith, for their support and help. "Without Becky and her team none of this would have been possible," he said.
"Our aims for the coming year are to increase membership, raise more funds, support the castle and organise some more exciting and interesting tours and events." There are currently 152 members.
Neil McCollum, English Heritage's historic properties director for the South East, said the castle attracted 383,000 visitors last year and they hoped that would exceed 400,000 in the near future. He thanked members of the Friends for their support and commitment. "It is invaluable," he said.
Guest speaker at the meeting was Ken Scott, the castle's first general manager, who gave an insight into the planning that went into the Queen Mother's annual visits to Dover and Walmer castles as Lord Warden of the Cinque Ports from 1986 to 2000.
He revealed that Walmer Castle - the Lord Warden's official residence - was filled with sweet peas for each visit, because they were the Queen Mother's favourite flowers, and that furniture was sometimes brought down from Buckingham Palace to replace some of that at the castle while the visits took place.
And, he said, he always received a thank you letter from the Queen Mother's Private Secretary and Comptroller, Sir Alastair Aird.
Mr Scott, who worked with six Brigadiers who were Deputy Constables of the Castle during his time as general manager, said: "I enjoyed my time here."
The Friends' officers and committee were re-elected at the meeting, and suggestions for future events included a tour of the esplanade tunnels, commemorations to mark the end of the First World War, visits to Hurst Castle and Ypres, and another quiz.
Membership of the Friends costs £27 for individuals, £39 for couples, £24 for those over 60, and £36 for couples over 60.
Membership forms are available from Pauline Beresford, 5 Minnis Terrace, Crabble Avenue, Dover CT17 0JF, email:
membership@dover-castle-friends.org
There is a website at
www.dover-castle-friends.org
and you can follow them on
Facebook
and
Twitter
.