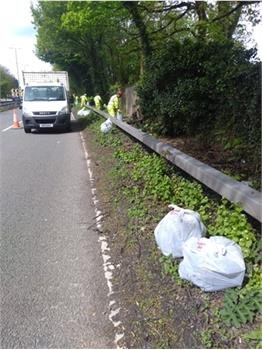 Dover District Council continues to drive home the message to people not to drop litter from their vehicles, and is working to clear our roadsides, including recent clearances on the A2 and A20, which collected over 15 tonnes of litter and debris.
Contractors Veolia have been busy working with partners AOne+ clearing the busy A2 and A20. Clearance work on the A2 and surrounding roads in May collected around 5 tonnes of waste, and work on the A20 in April picked up around 12 tonnes.
As part of a programme of litter clearance since April, they have also been clearing on Lydden Hill, Green Lane and Whitfield Hill, and working with partners Kent Highways on the A256 and A258. Other works will be programmed in as the opportunity arises.
Street cleaning, which includes clearing litter from roadsides, costs DDC in the region of £900,000 every year. They continue to drive home the message to motorists not to drop litter or throw rubbish from vehicles, including through their campaign "Don't Dump in Dover District".
Cllr Nicholas Kenton, DDC Cabinet Member for Environment, Waste and Health said: "Roadside litter is a national disgrace, costing the tax payers hundreds of thousands of pounds every year and damaging the local environment. Everyone needs to tackle this issue, starting with those who think it's acceptable to throw rubbish from their vehicles, or to fly-tip on the roadside."