A Dover man who blamed the injuries he inflicted on a former partner on her dog has been jailed.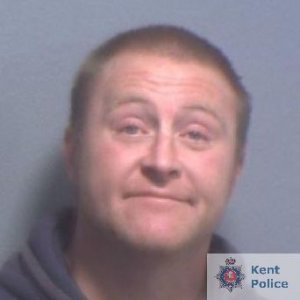 Arron Stanley, aged 38, of Shooters Hill, Dover, denied controlling or coercive behaviour and one count of assault during a trial at Canterbury Crown Court.
He was acquitted of the controlling or coercive behaviour charge but was convicted of the assault and was sentenced on Friday (9 March 2018) to three-and-a-half years in prison.
The jury heard that Stanley became violent during an argument at the victim's home in Canterbury on the evening of Sunday 3 September 2017.
Afraid for her safety, the victim ran into the bathroom, but he followed, grabbing her hair and pulling her backwards. She managed to pull free and shut herself in the bathroom but Stanley forced the door open. The door hit her head, causing a cut and knocking her to the floor. Stanley stood over her and stamped or punched at her head a number of times causing bruising, swelling and another cut to her face.
Back in the lounge he threw her onto the couch, picked up a steak knife and held it about two inches from her throat saying, 'I could end you now'. He then left the flat and a neighbour, who had heard her calls for help, alerted the police.
Stanley turned up at the victim's address the following day. She called the police and he was arrested nearby.
When he was interviewed he denied everything, claiming her dog had become agitated and had bitten her face.
Investigating officer Police Constable Colin Glover said: "I hope this sentence sends a strong message to perpetrators that domestic abuse will not be tolerated.
"Victims should never suffer in silence and we encourage them to report offences. They may be feeling frightened, isolated and ashamed but they are not to blame for what is happening.
"Putting the victim at the heart of everything we do means we take into account their wishes and we have a range of services available through partner agencies to help keep victims of domestic abuse safe."