Dover Harbour Board, owner and operator of the Port of Dover, has announced the appointment of Doug Bannister as Chief Executive.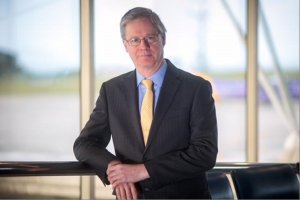 Doug has an extensive record of successful leadership in the maritime, aviation and ports sectors. As the Port of Dover manages the challenges of Brexit, the Western Docks Revival and developing and implementing a Masterplan for the future, the Board has secured a very high calibre candidate to lead the Executive team and the organisation at this time.
Doug will join the Board and take up his position at the latest on 1st March 2019.
Richard Everitt, Chairman, said: "After an extensive search I am very happy to welcome Doug and his family to East Kent. He joins at a challenging time for the Port and its key customers. His skills, experience and personality will strengthen the Executive team and I am confident his appointment will be welcomed by all the Port's stakeholders."
Doug Bannister said: "I am very pleased to be given this opportunity to advance the success of the Port of Dover in what will be a challenging chapter in its rich history. I am looking forward to working with the team, our customers and stakeholders to deliver this ambition."