Millions of people will be tuning in to watch the final of an exciting television programme this Thursday (8 February 2018), and most of them will be rooting for a Dover man who has become an inspiration.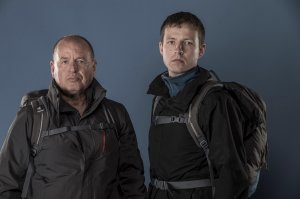 Photo credit: Channel 4
Father and son Bob and Alex Ayling were among 10 people who "escaped" in Manchester with the aim of spending 25 days avoiding capture by an elite team of hunters, led by former Met Police officer Peter Bleksley, for the Channel 4 series Hunted.
Those who are still free at the end of the 25 days, and reach a set location, can claim a share in the £100,000 prize.
After last week's episode, only four of the original 10 remain, and Bob and Alex are among them. At one point they were almost caught in Cheshire after making a phone call which the hunters traced.
But they have been using Bob's Freemason friends to try and keep one step ahead of the hunters, and then split up to give them more of a chance of success.
Alex, a postman, has spoken openly on the programme about how autism in the form of Asperger's Syndrome has affected his life. He revealed that he was bullied at school, had few friends and found it difficult initiating a conversation with strangers.
But in the penultimate episode last Thursday, he arranged a secret and daring meeting with his mother Lynne - who used a disguise and a friend's car in an attempt to outwit the hunters and take Alex some vital supplies - and he asked a stranger if he could camp on a nearby field overnight. He was overjoyed with this "new Alex", and immediately gained support on social media from people all over the country.
Many have said they would be pleased and proud to be his friend, others have told him the whole world will be friends with him, and they are all saying they want him to win the prize.
One, Nicola Thorn, wrote on Twitter: "No one should have to endure what Alex suffered, growing up. Bullying should never be tolerated or ignored. Fight back bullies, report report and report again until they suffer the consequences of their actions."
Another wrote: "I think Alex's participation in this series is not just brave, but also inspirational too!"
And Chris Cowcher said: "For anyone who does not understand Aspergers please use Alex as a reason to educate yourself and help to stop the risk of others being bullied like he was."
Viewers will find out this Thursday evening whether Alex, Bob or either of the other two remaining fugitives can beat the hunters and win the prize. Hunted is on Channel 4 at 9pm.