Dover District Council has signed a 12 year management contract with Places for People (PfP) Leisure as part of a major investment in leisure facilities with the construction of the new £26m Dover District Leisure Centre.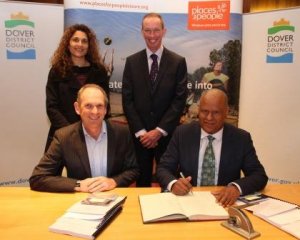 PfP Leisure take over the management of the existing Dover Leisure Centre on Townwall Street from 1 April 2018 which will remain open until the new leisure centre opens at Whitfield early in 2019.
Construction of the new Dover District Leisure Centre is making good progress. Representing a step change in leisure facilities in the district, it will include the first county standard competition swimming pool in Kent (25m x 8-lanes), spectator seating for 250 people, learner pool with moveable floor, four court sports hall, squash courts, multi-function room, fitness gym, fitness studios, clip 'n' climb wall, and a café. The centre also includes two outdoor 3G artificial pitches for five-a-side football and parking for 250 vehicles.
Cllr Trevor Bartlett, Cabinet Member for Property Management, said: "We're delighted to be working with PfP Leisure to deliver the new Dover District Leisure Centre.
"We've been impressed with their vision, not just in terms of new facilities, but also their passion to get more people engaged in active lifestyles from all sections of the community."
John Bates, Business Development Director at Places for People Leisure said: "As a social enterprise with a mission to create active places and healthy people, we are pleased to be supporting Dover District Council at this exciting time as they plan to invest in and enhance the leisure provision within the area.
"The new centre will boast a range of facilities and we are looking forward to working in partnership to complement this with a range of activities that we hope will inspire all members of the community to enjoy physical activity and adopt healthier lifestyles."