Dover District Council has launched a tender for an architect to lead a multi-disciplinary design team for its ambitious restoration plans for the Grade I Listed Maison Dieu in Dover town centre. The project was awarded £427,400 from the Heritage Lottery Fund (HLF) in July to develop further its plans to create a thriving cultural venue.
This is the first phase in a bid for £4.7 million from the HLF, which it is proposed will be matched with £3 million from Dover District Council. Subject to a successful second round bid, work is expected to start on the Maison Dieu in 2020.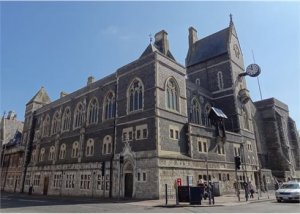 The project includes essential conservation work to the internationally significant medieval and neo-gothic interiors of the Maison Dieu, creating a new visitor entrance to the Connaught Hall and improving access throughout the building, and making the building more sustainable by bringing redundant spaces back into commercial use. This will include restoring the Mayor's Parlour as a holiday let, and creating a unique café space in the Old Gaol.
Cllr Trevor Bartlett, DDC's Cabinet Member for Corporate Property, said: "This is an exciting opportunity for an architect with specialist experience in the heritage sector to play a key role in the development of our plans for the Maison Dieu.
"This iconic building has the potential to be the jewel in the crown and to anchor the wider regeneration of Dover town centre. It's a challenging and complex building and we want a creative architect to help us secure the future of the Maison Dieu."
Architects interested in the Invitation to Tender can find details on the
Kent Business Portal
. Tenders must be submitted via the Portal by 5pm on Friday, 4 January 2019.