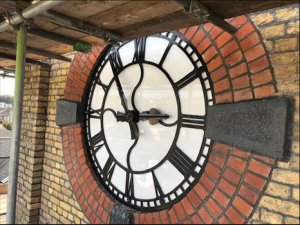 The clock tower at Buckland Mill has long been part of the townscape of the northern end of Dover and thanks to developer, Gillcrest Homes, the iconic clock, which dates back to 1831 is now working again following a restoration.
The restoration was undertaken by specialist clock makers and restorers As Time Goes By Ltd, and included repairing and cleaning the four clock faces along with the installation of a new electronic mechanism to ensure the clock keeps good time.
Gillcrest Homes has been working on the extensive redevelopment of the former Buckland paper mill, converting the former industrial building for exclusive loft-style living featuring one and two bedroom duplex apartments with secure basement parking.
The final phase of the redevelopment of the former mill building is underway with a further 47 apartments. Dover District Council recently granted planning permission for a gym on the ground floor, and the wider development plans include other retail and leisure uses. A separate planning application for a new build care home on the site is currently being considered by Dover District Council.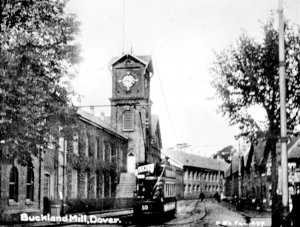 Photo credit: Dover Museum Archives
Cllr Jim Back, DDC's Cabinet Member for the Built Environment, said: "Protecting the architectural features of this landmark building was a key aim of the original design brief, developed by Dover District Council so it's great to see the Buckland Mill clock working again."
Gerry Phoenix, Senior Land Manager at Gillcrest Homes, said: "Restoring the clock tower marks another key milestone on the redevelopment of Buckland Mill. We're delighted to have returned this important local landmark to use."