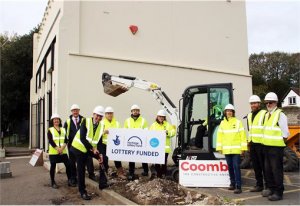 Dover District Council has marked the start of a £1m project to restore and extend the café at Kearsney Abbey. Cllr Trevor Bartlett, Cabinet Member for Corporate Property was joined by Keith Jarrett, Contracts Manager for local contractors, Coombs to break ground on a 180m² new build extension to the café. The project also includes the restoration of the Grade II listed billiards room, the only remaining structure from the mansion which originally stood on the site.
Kearsney Abbey and neighbouring Russell Gardens make up one of the most popular public parks in East Kent, attracting thousands of visitors every year. Their popularity is set to grow with a £3.1m investment from the Heritage Lottery Fund (HLF) to restore historic parkland features, including Thomas Mawson's original 1900 design for Russell Gardens, then known as Kearsney Court.
The café extension at Kearsney Abbey is an integral part of the HLF supported project to provide a better visitor experience, with a larger café incorporating new toilets, a Changing Places facility, and space to support community volunteering and education activities. The building will extend to the east of the billiards room, re-creating an impression of the mass and spread of the original mansion house.
The restoration of the billiards room includes works to repair and conserve the original oak panelling, along with the wooden and ornate plaster grotesques. There will also be extensive repairs to the stained glass in the building, including the lantern which features images of billiard cues, flowers and leaves.
Prior to construction work starting, forty seven volunteers joined Canterbury Archaeological Trust to complete a two week excavation of the car park uncovering more about the history of the former mansion.
Cllr Trevor Bartlett, Cabinet Member for Corporate Property, said: "Today marks the start of the major capital works at Kearsney Abbey following many months of preparatory ecology and conservation work.
"It's an exciting time for the parks which play an important role as a valued community amenity for local people, a haven for nature, and as a popular visitor attraction."
Construction of the new café is expected to be completed by summer 2019. In the meantime, Riverside Catering is operating a new Park Café in Kearsney Abbey, seven days a week from 10am to 4pm.