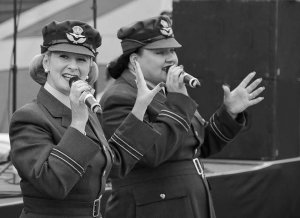 On Sunday 26 August, the shore side stage will provide the platform for some great local talent to perform throughout the day and into the evening at the Port of Dover Community Regatta.
The programme of artists for the day will be:
10:00 to 10:30 - The Wiggins Sisters
Singing group of sisters, performing both covers and original material. Based in Kent.
10:30 to 12:00 - Swingtime Sweethearts
The Swingtime Sweethearts are Annie Riley & Le'arna Castle, both successful solo artists, with a combined experience of over 20 years. Their affection for the forties has brought them together to perform as the Swingtime Sweethearts. Their wide range of songs from the 1940s, wartime & swing, includes the hits of The Andrews Sisters, Vera Lynn, Anne Shelton, Gracie Fields and Glenn Miller. The girls have been very busy since meeting in 2006, performing at Air shows, War events, and Festivals all over the country.
12:00 to 13:30 - Happy Feet Ragroof Players
Let's dance! The Ragroof Players present their latest participatory show, Happy Feet, in which a team of fabulous DJs and dancers take you on a non-stop dance-a-thon through the decades.
14:00 to 16:00 - Kent's Michael Buble - Jason Allen Sway
His tribute to The Great American Songbook includes some of the greatest swing songs ever written, performed by some of the world's biggest stars including Frank Sinatra, Dean Martin, Sammy Davis Jr and modern favourites Michael Buble, Jamie Cullum & Robbie Williams.
16:30 to 18:00 - Cool Manière
Cool Manière are a 5 piece band from Kent. Playing music from the 60's up to current day.
18:30 to 20:30 - Rudy Warman & the Heavy Weather
A popular trio from Folkestone playing all original music with their own unique sound.
So come along, enjoy the fun and watch some of Kent's best talent perform on our beautiful Dover seafront.