The Zeebrugge Bell has returned to Dover following restoration and cleaning at the Loughborough bell foundry of John Taylor & Co. The Zeebrugge Bell was given to the people of Dover by HM The King of the Belgians, Albert I, as a souvenir of the naval raid on Zeebrugge harbour on St George's Day (23 April 1918).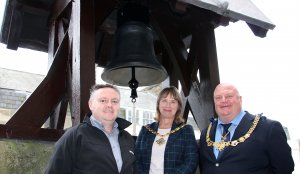 The Bell was welcomed back to Dover by Cllr Neil Rix, the Town Mayor of Dover, Cllr Sue Chandler, the Chairman of Dover District Council, and Tony Yelverton, Managing Director of Hipperson Builders, the project contractors who also completed conservation work to the bell housing and tower.
The Zeebrugge Bell is housed at Dover's Grade I listed Maison Dieu and is struck each year by the Town Mayor at noon on St George's Day (23 April) as part of annual commemorations organised by Dover Town Council.
The centenary of the Zeebrugge Raid will be commemorated in Dover on Monday, 23 April 2018 with a series of events organised by Dover Town Council. Later in the day, Royal Marines Heritage Trails will be launched in Deal. The Royal Marines played a pivotal role in the raid on Zeebrugge with many of them trained at the Royal Marines Depot in Deal.