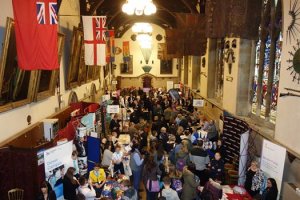 Over two thousand people attended a Jobs and Skills Fair organised by Dover District Council and partners, East Kent College, as major regeneration and investment projects start to deliver new jobs and career opportunities.
Jobs at the £53m St James retail and leisure development in Dover town centre were in strong demand with exhibitors, including Cineworld, Costa Coffee, Greggs, M&S, Next and Shoezone all starting their recruitment campaigns. The St James development is due to open in the first quarter of 2018.
Many of the district's biggest employers were also represented, including Bakkavor, DFDS, Discovery Park, Megger, Pfizer, P&O Ferries, the Port of Dover, and VSBW, its main contractor for the £250m Western Docks Revival project. In total over 200 jobs were on offer along with a wide range of training and education opportunities.
Earlier in the day, Cllr Keith Morris, the new Leader of Dover District Council, hosted a breakfast meeting for key business leaders. He told them that the Council's work to create the right conditions for new investment was starting to pay dividends and creating real jobs for local people.
Cllr Morris said: "What excites me most are the opportunities this regeneration and investment are creating for young people. For too long, the perception has been that people have to travel out of the district for work. And yet, on our doorstep we have world-class businesses in life sciences, engineering, maritime and logistics, and food production."
Cllr Morris also highlighted future jobs growth, including:
50,000 sq. ft. of new laboratory space and a 60,000 sq. ft. expansion of office space at Discovery Park
Opening of a £150m bio-mass heat and power plant at Discovery Park in 2018
A Business Incubation Hub for small and medium size businesses at Betteshanger Sustainable Parks, alongside the 2018 opening of the new £8m Visitor Centre and Kent Mining Museum
Megger's 2020 project which will see major investment in its Dover facility over the next three years
Dover District Council investments, including a £26m new District Leisure Centre at Whitfield with the only county standard competition swimming pool in Kent
Also in Whitfield, a new Lidl supermarket due to open in early December, and a new trade park including a Lokn'Store self-storage facility, a direct investment following Dover District Council's work to promote inward investment at MIPIM in London
Guest speaker at the business meeting was Gemma Griffin, Vice President of HR & Crewing at ferry operator, DFDS. Gemma is at the forefront of the campaign to promote maritime careers and training as Chairman of the Employment Committee of the UK Chamber of Shipping, and as a member of the Merchant Navy Training Board.
Gemma, said: "We were delighted to support the Dover Jobs and Skills Fair. DFDS employs over 1,000 people on its Dover ferry services to Calais and Dunkerque, and we're committed to developing the next generation of seafarers.
"Our pioneering schemes for deck, engineering and catering apprentices offer outstanding opportunities for people to start their careers. For the most talented, progression to Captain or Chief Engineer is possible within ten years. With 95% of world trade transported by ship, there will also be exciting opportunities for those who pursue a career at sea."
Matthew Jaenicke, Managing Director of Viking Recruitment, also attended the business meeting. Later in the day, he revealed that Virgin Voyages, the new cruise line established by Sir Richard Branson, were in Dover to view the state-of-the-art facilities at the Dover Maritime Skills Academy.