Local community groups and charitable organisations have received a cash injection thanks to the Kent Police Property Fund.
The money is raised through the sale of lost property and each year several worthwhile ventures all over the county receive funds to support their good work. This year four groups from the Dover area each received a cheque of £500 at a presentation held at Dover Police Station on Tuesday (7 March 2017).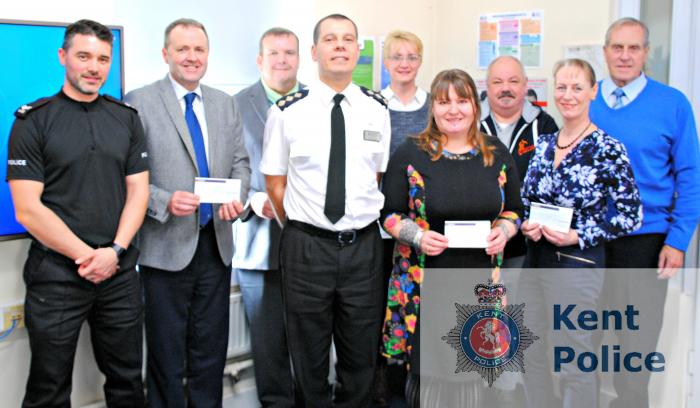 Photo credit: Kent Police
The lucky recipients were:
Dover Gymnastics Club
where Vice Chair Jon Green and committee member Caroline Taylor collected the cheque. The money will be used to fund the club's on-going engagement work, which supports the local community and promotes gymnastics within local schools.
Jon said: "As a registered charity we are grateful for this donation, which will allow us to continue our engagement in the wider community. We've just celebrated our 40th anniversary as a club and like to do all we can to put something back into the community where our members live."
Dover Outreach Centre
where Noel Beamish, Chairman of the Trustees, attended the presentation and said the money would be of great support to the centre, which offers opportunities for socially isolated groups such as the homeless and vulnerable.
Sandown Castle Community Garden Group, Deal
where John and Linda Ford were 'delighted' to receive £500 towards the upkeep of a community garden near to the ruins of Sandown Castle in Deal. They have been joined by other local volunteers who have all put in hours of work since 2015 to create an award-winning garden.
John said: "Everyone has worked so hard on it. It improves the look of the area and brings people together. It appears to have reduced anti-social behaviour too. The money will be spent on its upkeep with the introduction of more perennial plants and a fixed water supply."
The Phoenix Centre, Sandwich
where Phil and Elleanor Scott were pleased to receive a cheque to support the charity, which offers recreational facilities for people in Sandwich and surrounding areas including a skate park and skate group called Streetside.
Chief Inspector Mitchell Fox at Kent Police, who presented the cheques, said: "Our Property Fund is a great opportunity to support local individuals who do so much for our local community and in doing so ultimately support Kent Police.
"I enjoyed meeting them all and listening to their stories and commend them for their passion and hard work to raise funds, which everyone knows is often a painstaking task."