Following a successful Later Life Celebration event held in Pencester Gardens yesterday (11 May 2017), the new Later Life Address Book is now available across the district.
The event saw hundreds of visitors enjoying a range of activities and attractions, and finding out about a wide range of information on local services. Dover District Council is thanking all the partners who supported the event, and everyone who came along on the day.
The event was organised by Dover District Council, and was supported by the Kent Police and Crime Commissioner, Michael Scott, who attended the day.
Features of the day included musical entertainment, including performances from the P&O Choir, The Moments and Chantilly Lace; later life activities, including walking football and yoga; vintage vehicles on display from the Friends of East Kent Buses and the Dover Transport Museum; and vintage game stalls, including Hook The Duck, Bat The Rat, and Coconut Shy stalls.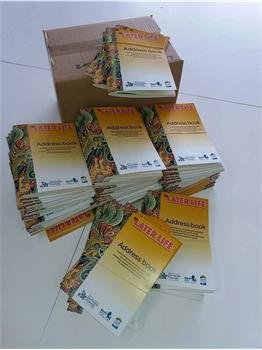 The event marked the launch of the Later Life Address Book. This is a vintage-style address book, designed to be easy to read, containing details of local businesses and services that have come forward as Dementia Friends, and attended special training sessions. The project has been run by DDC working with Dementia Friends, part of the Alzheimer's Society.
The Later Life Address Book is available at a range of locations, including DDC offices and Age Concern centres in the district. DDC has been officially recognised by Dementia Friendly Kent as a 'working to become dementia friendly' organisation.
For more details on community services see the
DDC Community pages
or sign up with
Keep Me Posted
, or for more information on Dementia Friendly Kent visit the
Dementia Friendly Kent
website.