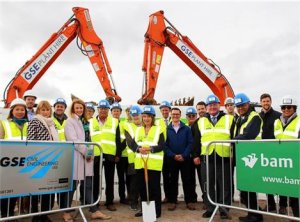 The start of construction of the new £26m Dover District Leisure Centre has been formally marked with a ground breaking ceremony at the 2.1 ha site in Whitfield.
Cllr Sue Chandler, Chairman of Dover District Council, and Cllr Trevor Bartlett, DDC Cabinet Member for Property, were joined by Andy Couves of Sport England, Dan Brenchley, Project Manager for BAM Construction UK, along with the Project Advisory Group and consultant team.
The new Dover District Leisure Centre includes a competition standard, eight-lane swimming pool with spectator seating for 250 people, a learner pool, four court sports hall, squash courts, multi-function room, fitness gym, fitness studios, clip 'n' climb wall, and a café. There will also be two outdoor 3G artificial pitches for five-a-side football, landscaping and a minimum of 250 parking spaces.
Cllr Trevor Bartlett, DDC Cabinet Member for Property, said: "Today marks the culmination of two years of detailed planning. We're proud to be investing in leisure facilities alongside Sport England. Their support and funding, along with pre-construction design input from BAM Construction and the work of the Project Advisory Group, has been pivotal to the development of plans for a leisure centre that is fit for the future."
The New Dover District Leisure Centre is due to open in early 2019.