A lorry driver who smuggled more than a tonne of hand-rolling tobacco into Dover's Eastern Docks evading £220,000 in duty, has been jailed for 22 months after an HM Revenue and Customs (HMRC) investigation.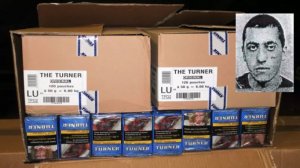 Import documents showed the lorry was carrying 24 pallets loaded with boxes of sesame and caramel coated peanuts. However, a search of the vehicle revealed that in three of the pallets the peanuts had been replaced with 57 boxes of 'Turner' hand-rolling tobacco.
Georgi Ilchev, 26, was arrested by Border Force officers at Dover Eastern Docks on 2 August 2017, and the investigation referred to HMRC.
Tim Clarke, Assistant Director, Fraud Investigation Service, HMRC, said: "Ilchev thought he could avoid detection by hiding the smuggled tobacco within a legitimate cargo of peanuts, but his crime was discovered and he's now paying the price in prison. Had the smuggled tobacco made it to the UK's streets it would have harmed honest retailers.
Ilchev pleaded guilty to evading excise duty at Maidstone Crown Court on 31 August 2017. He was jailed immediately for 22 months.