A Dover man who admitted attacking his victim with a glass bottle, a knife and a pair of scissors has been jailed for seven and a half years.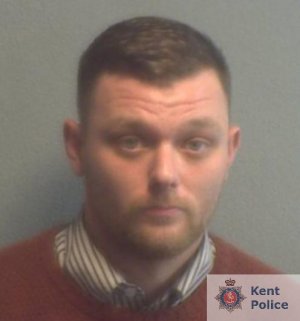 William Hicks, aged 28, of Maison Dieu Road, had initially denied carrying out the assault at a house in Dover on Friday 3 March 2017. But at Canterbury Crown Court on Monday (20 November 2017) Hicks changed his plea and admitted a charge of wounding with intent.
The 20-year-old victim was with friends at the house in Leighton Road when he was introduced to Hicks for the first time. At about 6am Hicks started talking about wanting to commit a robbery or burglary. At the same time the victim happened to be texting his mother, who lives abroad.
Hicks accused the younger man of 'snitching on him' but calmed down when the victim showed him the messages on his phone.
A short while later the victim went to leave the house but was stopped by Hicks, who hit him over the head with a vodka bottle, then attacked him with a knife and pair of scissors and threatened to kill him.
The victim's friends intervened and the victim managed to escape and run to his girlfriend's house where he called the emergency services. He was treated in hospital for a puncture wound to his right arm and numerous cuts to his arms and head.
The victim and a witness confirmed to police that Hicks was the assailant, and the victim also later positively identified Hicks in an identification procedure.
Police conducted a search for the knife and found it in the River Dour not far from the scene of the assault.
Investigating officer Detective Constable Stephanie Capaldi said: "This was a violent and unprovoked attack on a victim who had done nothing to deserve such treatment.
"He suffered a nasty puncture wound and several slash-type wounds as he tried to protect himself against Hicks's onslaught. And his injuries could have easily been so much worse.
"This sentence shows how seriously the courts take violent crime and I hope it sends a strong message to criminals that violence in any shape or form is never acceptable."