An Army reservist from Dover is taking part in this year's Exercise Northern Strike at Camp Grayling, Michigan.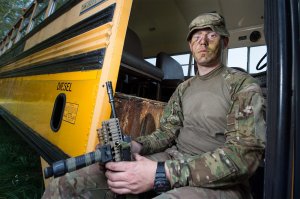 Photo credit: Cpl Jonathan van-Zyl. Crown Copyright.
Private Christopher Jones, 23, from Machine Gun Platoon, which is attached to Headquarter Company, 3rd Battalion The Princess of Wales's Royal Regiment, is taking part in the two-week annual training exercise which reservists are required to attended.
Chris, who is a keen golfer and was born and grew up in Dover, attending St Edmund's School, has been a reservist for almost 5 years, having initially wanted to join the regular Army.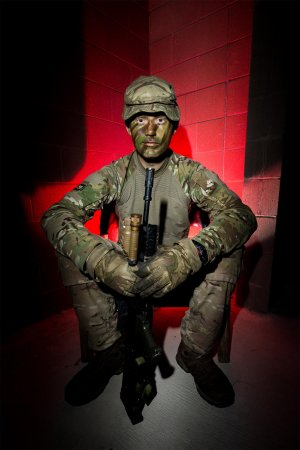 Photo credit: Cpl Jonathan van-Zyl. Crown Copyright.
He said: "I just wanted to go on tour, I hated the idea of sitting around". He was advised to become a reservist to go on tours, find out what it was about and go from there. He added, "I've never looked back from there really."
The desire to join the military is a common theme that runs through his family. His grandfather served in the Army and the RAF and his father currently serves in the RAF. Similar to his grandfather, Chris has now decided to transfer to the Navy and venture to the seas. Chris said: "I want to work with helicopters and I've been given an amazing opportunity to become an aircrewman and I have recently passed all the test to do that. It's a well sought after job and I am extremely pleased and really looking forward to it". Chris is expected to make the move early next year.
Having recently returned from a tour in Afghanistan, Chris has been enjoying some down time while focusing on completing the necessary tests, which set him on the path to joining the Navy.
Speaking about the exercise in Michigan Chris said: "The exercise has been really interesting, it's been great to work alongside the Americans, I last worked with them when I was in Afghanistan so it's nice to work with them in a different capacity. We don't really have helicopter ops in the UK so it's been brilliant to have the opportunity."