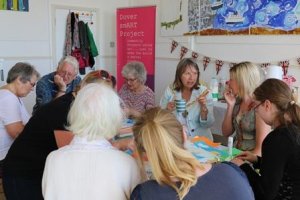 As the next round of the Community Grants Scheme is launched, the Chairman of Dover District Council has been visiting community groups who were successful in last year's scheme.
Community groups looking for funding have been invited to apply for grants from the DDC Community Grants Scheme 2017-2018, and the closing date for applications is 18 August 2017. DDC is offering funding to groups that can show benefit to the local area, with groups invited to apply for individual grants from £100 up to £1,000.
Last year, more than £22,000 was allocated to 29 different community groups across the district. One of the successful groups was the Dover smART project.
The Chairman of Dover District Council, Cllr Sue Chandler, and members of DDC's Community Services team visited Dover smART to learn about their 'My Dementia' project. 'My Dementia' is a community arts project funded through the Community Grant Scheme for those living with dementia. The group meets for two hours once a month to create artworks using a variety of media. They use themes that have a relevance to Dover and the area, and also link in music that may trigger memories.
Laura Graham from Dover smART said: "We had a lovely morning in the gallery. Our older people's group met, including some of our lovely volunteers, and we enjoyed the company of officers and the Chairman of Dover District Council. We would like to thank DDC for the Community Grant, which has helped to fund our work."
One of the participants, Patricia Newman, said: "The group is a real asset, attending has been a real pleasure, and I have started to gain confidence in painting."
Cllr Sue Chandler, Chairman of Dover District Council said: "Community groups play a key role in the life of our communities, and we are delighted to be able to support them. It was great to visit the Dover smART project, to congratulate the project on its valuable work, and to meet and chat to some of the volunteers who work so hard and the residents who benefit so much."
For more information or to apply for this year's Community Grants Scheme, visit the
Neighbourhood Forum pages on the DDC website
or email
neighbourhoodforums@dover.gov.uk
.