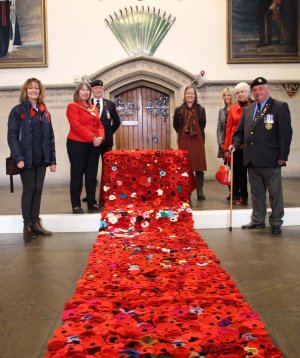 A big thank you is being sent out to all the knitters who provided fantastic support for the area's Knitted Poppy Appeal. Over a thousand poppies were delivered to local collection points and helped to make a giant poppy carpet, which featured in a range of events as part of the remembrance commemorations in Dover District.
Cllr Sue Chandler, Chairman of Dover District Council, said: "We would like to say a big thank you to everyone who supported the appeal, and helped to produce this amazing poppy carpet. This was a great opportunity to bring communities together, to remember those who lost their lives in times of warfare, and to raise awareness of the Royal British Legion's Poppy Appeal."
The knitted poppy carpet featured in a range of events and locations, including the launch of the Royal British Legion's Poppy Appeal in Dover; the Dover Marine War Memorial at the Western Docks, as part of the British Torch of Remembrance Annual Pilgrimage; the 'topping out' of the new war memorial in Aylesham; the Hellfire Corner Association's Remembrance Concert in Dover Town Hall; and the Remembrance Sunday Service in Dover Town Centre.
The local appeal was launched in August, when Dover District Council with the Royal British Legion, Dover Arts Development, and Dover Big Local/Art 31 invited people to help create a carpet of knitted poppies. Other Kent councils were involved with similar projects in their own districts. A range of volunteers helped to attach the poppies locally, and the carpet in Dover District is now over 7m long.
Knitters were invited to use a range of collection points, including Council offices and the Dover Big Local Hub in the Charlton Centre in Dover. A range of poppies were received from individual knitters and from local groups across the district. Balls of free wool were supplied by DAD, and there was a run on supplies of red wool at local shops. 'Learn to Knit a Poppy' sessions were held at the Dover Big Local Hub and a knitting group was set up, which they intend to continue.
The carpet is currently on display at the Dover Gateway in Dover Town Centre.