A big thank you is being sent out to knitters across the district who have been busy supporting the area's Knitted Poppy Appeal.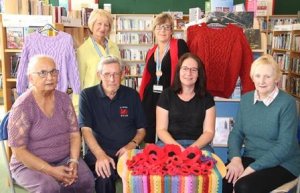 Hundreds of poppies of all shapes, sizes and colours have been making their way to collection points, including contributions from individual knitters and from local groups, like the Aylesham Knit and Natter group.
The appeal was launched in August when Dover District Council with the Royal British Legion, Dover Arts Development, and Dover Big Local/Art 31 invited everyone to get out their knitting needles to create a carpet of knitted or crocheted poppies.
A 'Learn to Knit a Poppy' session is being organised by Dover Big Local at the Dover Big Local Hub in the Charlton Centre on Thursday (12 October 2017) from 10am to 12 noon.
The knitted poppies will be used to create a display in the district in the run up to Remembrance Day. The poppies can be any size or colour and follow any pattern. However patterns are available on the
Royal British Legion website
.
Knitters can hand in their poppies at:
The main Dover District Council offices in Whitfield
The Dover Gateway offices in Dover Town Centre
With the DDC officers at the Aylesham Community Project
The Dover Big Local Hub in the Charlton Centre in Dover
DDC Area Offices in Deal Library and the Sandwich Guildhall.
Cllr Sue Chandler, Chairman of Dover District Council, said: "We would like to say a big thank you to everyone who is supporting the appeal. This is a great opportunity to bring communities together, to remember those who lost their lives in times of warfare, and to raise awareness of the Royal British Legion's Poppy Appeal."
Knitters are asked to get their poppies in by October 31. For more details see the
Knitted Poppy Appeal page
.