2.3 million tourist passengers passed through the Port of Dover this summer - 2.5% extra compared to last year - and to celebrate, one lucky family on the Dover to Calais route was presented with a bottle of Champagne by Tim Waggott, Port of Dover's Chief Executive.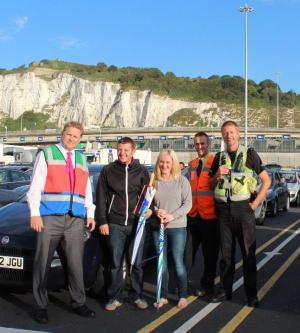 David and Jenny Young and their two children from Bacup in Lancashire were heading off on holiday to the Paris region when they were presented with the bottle while waiting to board P&O Ferries' Pride of Kent to France.
Tim Waggott was as delighted to present the Champagne to a surprised Mr and Mrs Young.
"This has been a really strong summer for the Port of Dover's ferry operations. We are seeing significant growth in the number of passengers using the ferry terminal and this year's figures are even more satisfying as we continue the revitalisation of the port. Ferries from Dover have been creating the perfect start to family vacations in Europe for generations. It is great to see that they still are."
Photo shows (left to right): Tim Waggott, Chief Executive Port of Dover, David and Jenny Young, Andy Gross, P&O Ferries; and PC Paul Skinner, Port of Dover Police.