11 December 2009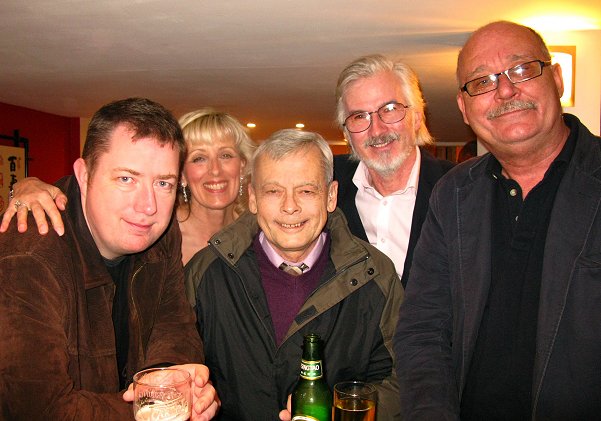 Christmas:

The

Doverforum

Party

Pictures!
Well the grand party event has come and passed and it all went very well indeed. In a new location this time, to match newer times.. it was held on the mezzanine floor in Chapter Eight known as Jessie's Bar.. we had an excellent turnout of forumites and friends of Doverforum, so it all went off very well indeed.
The wine flowed and the added attraction of hot food this time, with seats to enjoy it, made it all excitingly different. It was as ever great to see all the familiar faces and we even had a few new ones to add to the mix too and all enjoying the new location. Oh the fun....! So much mirth and all at once, well it shouldn't be allowed! They could, and very well might, tax you for it some time soon, especially the way things are going!
From left to right...nature photo legend and longtime forumite Phil Eyden enjoying the fun and frolics, in the background is former Mayor and current Deputy Mayor Jan Tranter, then Howard McSweeney Associate Editor Doverforum, then yours truly Paul Boland, Editor of all he surveys, then equal legend of longstanding, Thomas 'Guzzler' Mitchell...all propping up the bar in fine style.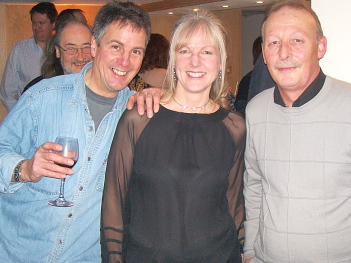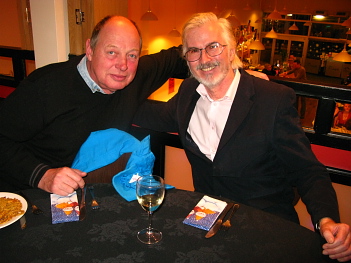 The picture left shows a frollicking photographer, the Dover Express's Phil Medgett, with glass in hand being a naughty lad.Then Alison Williams who is always up for some fun. Alison is now estranged from top forumite Barry Williams, but all seemed harmonious as they happily shared the mezzanine floor with no hiccups! also in the picture is top man, Cllr John Goodwin.The pic on right shows Big David Hannent, who had earlier walloped his tall head on the low flung ceiling causing a wound. We had a number of other tall guys like Andrew Stucken and Roger Walkden, tall lads who had some bother. Yours truly, also in the shot, at six feet, hovered just under the radar of the low flying roof.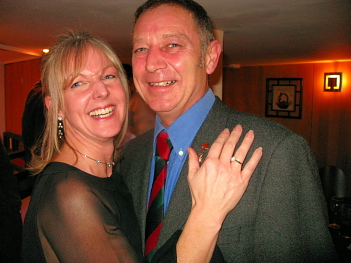 Ah loving couple, scheduled to be married in the not too distant future..its part of the progressive ace team from The Thatched Barn at Gt Farthingloe Farm, the new wedding and events location right here in Dover. Simon Saint on the left and Jane Carruthers on the righthandside. On the right we have Alison Williams again, this time getting up close and personal with longtime forum favourite Ian Lillford, her escort for the evening.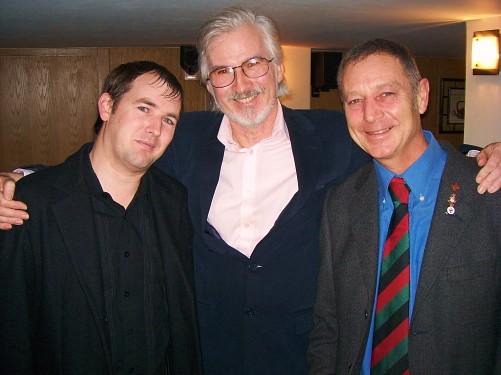 Here we have that PaulB guy again, gathering his flock about him in true Bishopric mode. Is there such a word as Bishopric? if there wasnt before then there is now. On the left we see Paul 'Scotchie' Wells, long term forumite of excellent standing and now an accomplished author having jointly written Dover Past and Present, the recently launched book of note. It's in all local shops now and sure to make a great Christmas present idea. Also in the pic is lovable lad Ian Lillford.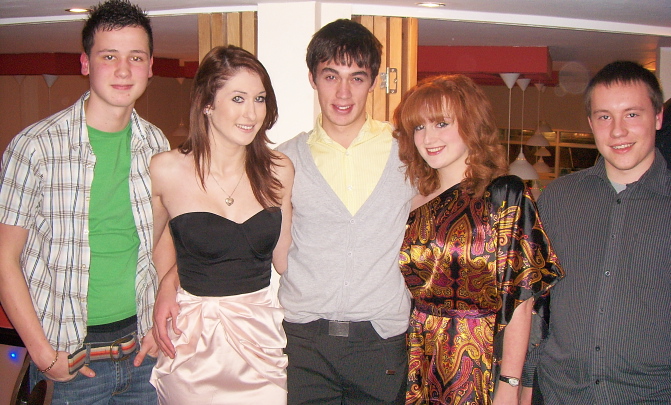 The younger set.. and they all did great putting up with us oldies for the night. Alex Williams, son of legendary Tory and top forumite Barry Williams, Briony Boland, fab daughter to editor, who was again practising her PR skills on behalf of Doverforum, then boyfriend to BB, Aaron Powell, then the lovely Aimee Mullan, and last but not least Charlie whose surname has escaped the notes! Eventually they all went off disco dancing or whatever it is they call it these days!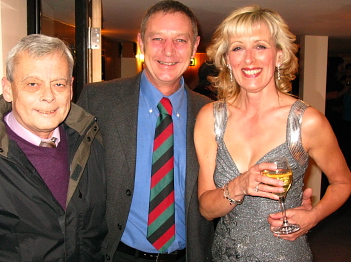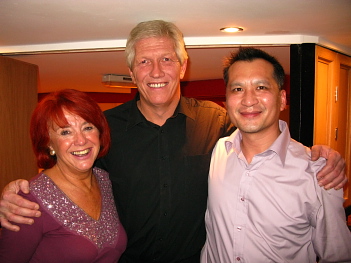 Main players all...Howard McSweeney again with Ian Lillford and then the lovely Jan Tranter, who shimmered all night! In the centre of the next picture is Brian Samways, former policeman and dad to the late Jessie, the bar/restaurant is named in her memory. A really nice idea. Also in the picture on the left is Liz Holt, Brian's partner, and on the right is none other than Tony Tse, owner of Chapter Eight, whose team did a fine job on the night. We all loved it!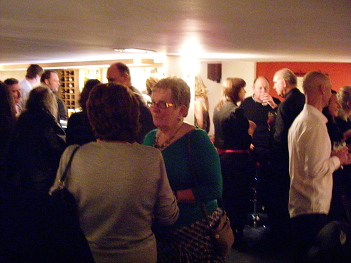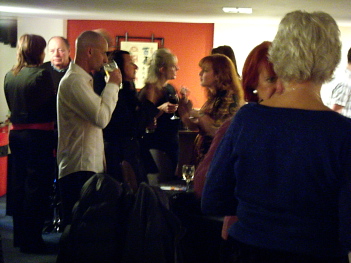 General group shots above...not having a lens wide enough to get everyone in at once..this is a section of the peeps!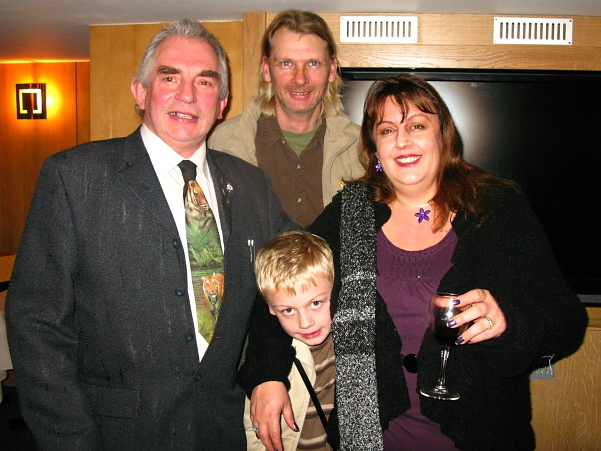 The gorgeous Mayor looking good. Always good to have the Mayor attend your functions for sure. So great to have Sue Jones and here she is with UKIP politician Vic Matcham on left, with her son Jack in the foreground, almost hidden under her wing, and in the background husband Dave.
Phil Medgett on the left nibbling his crackers, he likes a good nibble does Phil, then the heroic John Goodwin, then Georgette Rapley and then last but certainly not least Chris Precious. All enjoying the occasion.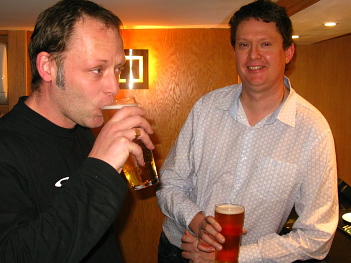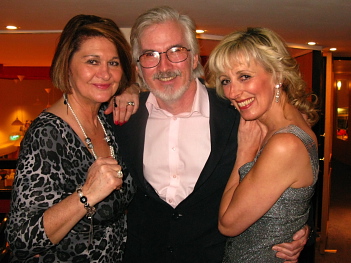 Soon to be forumite Matt Bristow enjoying a fine pint with another of our top forum guys Andrew Stucken. Andrew being tall had trouble with the low ceiling but once we got him seated with some food he was all fine and in good spirits. Have oft times bumped into Andrew at the White Horse Inn but was good to see him at one of our official Do's for the first time. Oh no what this? yours truly again with armfuls of wimmin! Well its a hard job but someone has to do it. On the left is our own lovely Colette Boland, who excelled herself organising this excellent effort..always working well with owner Tony to produce a very good result on the night. On the righthandside of picture is the lovely Jan Tranter again, making up the happy trio!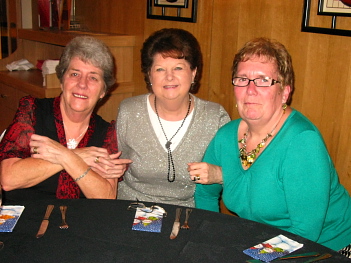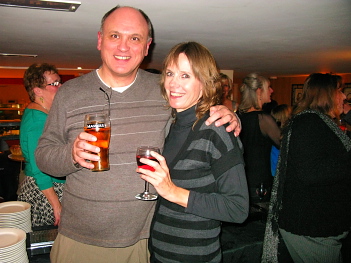 Some very dependable all round good egg girls here. Guest House owner Audrey, then Jean Walkden, wife to the new Business Support Manager Roger, who we seem to have missed this time with the camera, and Lesley Matcham wife to UKIP man Vic. The pic on right is of longtime forumite main player Barry Williams, who was in very good form and seen here with exciting new ladyfriend Paula...oooh I say!! Where will it all end!? Barry is of course the new Chairman of the Chamber of Commerce.Below we have the President of the same Chamber of Commerce, Cameron Macsween..sharing a drink and a chat with Aimee Mullan. Phew! thats all folks!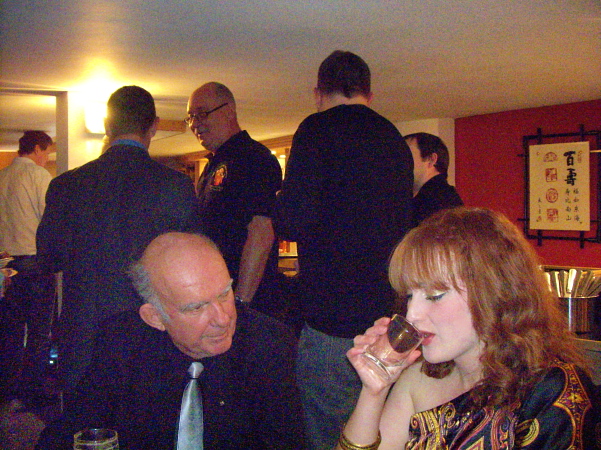 I think we will have to stop there due to the size of the page although clearly some people are going to be left out. We still have more good pictures too of more good people but we cant fit them all in alas. Apologies to those who missed out including some very familiar friends. All pictures by ColetteB and yours truly PaulB.