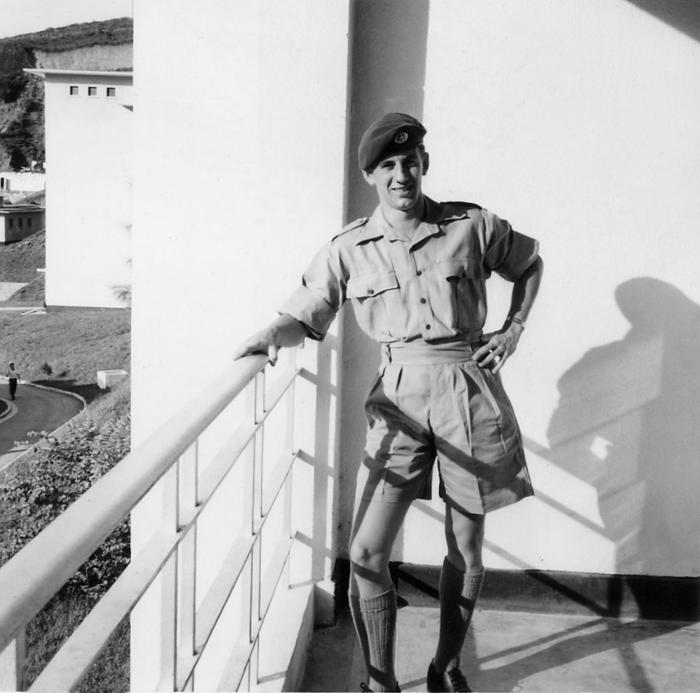 Hi there Dovorians
I tried to insert an image of myself aged about 19 when I was serving as an RAF wireless operator in Hong Kong in 1956 but don't know if it worked! So you see = I'm getting on in years now. I left Dover Grammar to go off and see the world - and after leaving the RAF and eventually getting qualified as a Structural Engineer I took my family off to see more of the world. By the way, after growing up in Dover, travelling to Hong Kong by an old propeller powered aircraft was such an adventure. Apart from the very rich and we service people, nobody travelled much then compared with today. It took 9 days to fly out the Hong Kong landing at places like the Libyan Desert, Habbaniyah in Iraq, Karachi, Negombo in Seylon (now called Sri Lanka) Changi in Malasia, a fuel stop in Saigon in Vietnam then an emergency overnight stop at a USAF base in the Philippines due to low cloud over HK and finally we did land at Kai Tak, HK. Even that was a bit dicey because the runway then was very short. It was eventually rebuilt while I was there as a long strip of reclaimed land out into the sea. I have about 250 photos of the old HK. I loved exploring and life there was fascinating for a young lad.
When I finally got back to civvy street and after 7 years of working and study at evening classes or 'night-school' at Salford Tech and Twickenham Tech, I passed the Institution of Structural Engineers exam to become a Chartered Engineer. As an engineer I would work on heavy steel structures being built in South Africa like the first Hydro-electric power station there, I supervised the building of a cotton processing factory in Southern Afghanistan (until things got too dangerous to work there) and I worked in Saudi Arabia on the structural design of offshore oil platforms. But now I am retired - and have time to reflect on what my old classmates from Dover might be doing or what adventures they might have had since leaving school.
My biggest buddy Brian (Titch) Davidson did, I know, follow me into the RAF and got a posting to Malasia I recall. I later heard that he and his wife Valerie (nee May) emigrated to Canada but I never kept in contact. Brian lived in Maxton and Valerie lived above the family cycle shop along the London Road. I think it was Mays Cycles. It would be fascinating to get some word of how they might be contacted if any fellow Dovorian has kept in touch. And of course there was my first real girlfriend Valerie whose surname was Pilcher and who I believe became Mrs Valerie Sidney. She lived in Queens Avenue, Elms Vale.
Well, I hope that someone out there might put me in touch. By the way, I met my wife Sue when I left the RAF and went to stay with my sister and her family in Old Windsor. Sue was the 'girl next door'! The lass has guts because she agreed to marry me and share my life as a struggling engineering trainee in Manchester - starting our married life with literally no money and sharing an attic room in a big old house in Chorlton- cum-Hardy. It was the winter on 1962 and we had three fires on in our tiny attic room to keep from freezing to death! We had two sons but sadly our eldest was to become very ill shortly after getting his degree and never fully recovered. So we have known great sadness as well as excitement - and a lot of laughs! We now live near the sea in West Sussex and love it here. Our surviving son and his family live in North London and we have 4 grandchildren and 2 great grandchildren. All in all we have enjoyed an interesting, loving and eventful life - so shouldn't complain I guess!
Regards to anyone who got this far!!
Tony Goldsmith