Swam the Channel in 14 hours and 57 minutes
Joint 840th fastest time out of 1,097 relay swims (equal with 3 others)
Date: 30 September 2011
Country: International
Category: Relay Swim
Route: England > France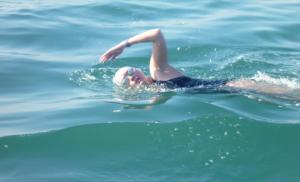 Organisation: Channel Swimming & Piloting Federation
Pilot: Neil Streeter
Observer: Sam Jones
Escort Boat: Suva
Additional swim information:
Raised money for Cancer Research and the RNLI.

From Richard Chatterjee:

We were a cross-Channel relay team of six: Debbie Rowe, Carol Duncan (of Stapleton's yogurt fame), Jim Boucher, Kevin Moloney, Tullio Salvatore & me. Tullio made a strong start, setting out from Dover just after midnight on Friday 30th September, 2011, with each of us swimming the customary hour in turn, until Kevin reached the Wissant Beach 21 miles (plus the extra mileage from being quite close to a spring tide) later at 3.00pm, with the rest of us swimming close behind, taking 14 hours and 57 minutes.

We had been ready to go since early July, but our diaries and the strength of the wind didn't match until the day we went, nearly three months later.

Many thanks to all at South London Swimming Club (Tooting Bec Lido), especially Kathrine O'Brien who let me know of this opportunity (instead of taking it up herself) and all the encouragers at Brighton Swimming Club and at Eastbourne Swimming Club.

And of course many thanks to the pilot Neil Streeter in his boat, Suva, assisted by crew member Adrian and official observer, Sam, and organisational support from Carol's husband, Peter.