8 February 2009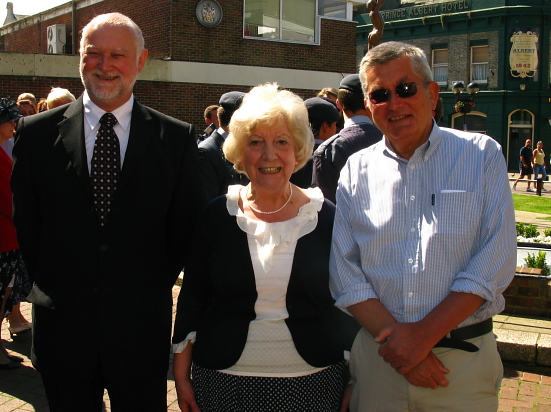 November 2009: Sue Nicholas is one of Dover's great characters and one of our leading councillors. She is an extremely independent minded woman and this great streak of refreshing independence, although popular with the Conservative voters in River, recently lost her the previously secure Housing cabinet position on Dover District Council. Sue was unwilling or unable to play the party game over such innovations as the gigantic screen in Market Sq. Sue did not like it and said so in no uncertain terms. She didn't like its location either. This maverick approach was not the position required by her colleagues and she was immediately shown the proverbial swinging door.

" I was extremely disappointed ,in fact hurt, that I was removed from the cabinet .I always brought challenge to the meetings if I thought it appropriate .I have never courted favour and I really loved the job I was doing which brought me into contact with so many residents all over the District."

Although Sue is a battle hardened Councillor of the old school ,this setback nevertheless hurt her deeply, as you can see from the quote above. After all her belief , often expressed previously, is that any councillor should speak their mind and put forward the various opinions held in the District even though these opinions may at the time be somewhat unpalatable to the 'management'. Her opinion with regard to the Market Sq screen was held my many.

But her Conservative colleagues appeared to have regarded her as too much of a loose canon, or so the rumour mill suggested anyway. To them she appeared unwilling to play the game, to put on the usual unified front, often seen in council or indeed government circles, which is particularly demanded in times of crises.

Although Sue is one of Dover's favourite characters she is not actually from the town, but hails from a sleepy hamlet in northern Essex. So yes that's right…an Essex girl! When her husband got a job with Seaspeed here in Dover in 1970, Sue joined him soon after, and in no time at all was involved in community work. She was elected to the council in 1987 and by the year 2000 was a full cabinet member.

Although she has had some setbacks this year there is still plenty of fire and brimstone in our Sue. I say "our" Sue as she is an avid and very welcome contributor to Doverforum. One of those few sturdy councillors willing to stick their heads above the parapet and communicate with the people who put them there.
Picture above shows left to right Cllr Roger Walkden, Cllr Sue Nicholas, Cllr Roger Frayne.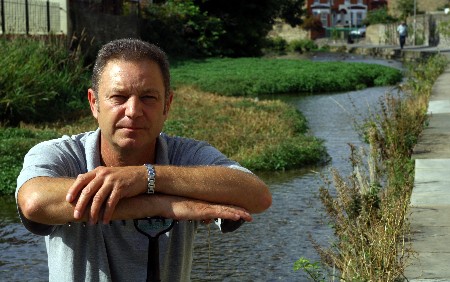 August 2009: Ian Lillford is one of those rare guys who is packed to the very brim with community spirit. He will help out no matter what. He gets down and does it. Although Ian loves Dover and its community, he is not from here at all, but from that far off township of Hull, yes that one in Yorkshire, way ooop north! But it was Hull's loss and Dover's gain when Ian decided to settle here.

But how did he end up in Dover? Well the army brought him here many moons ago. He was with the Prince of Wales's Own Regiment and they/he came to stay at the sadly now deserted Connaught Barracks. While at Connaught Barracks he met a lovely local girl and in the full glow of romance, decided he liked the place more than he expected. He stayed in the army for six years and after that worked, as many do, down in the docks, all the while raising a family. He is currently with the local Girls Grammar School, another fine institution. Ian has been here in Dover now for 32 years and is still loving it.

One cannot talk about Ian Lillford without mentioning the river. The local River Dour to be precise. Ian passionately rallied up a group of volunteers several years ago, all mustered from this very website Doverforum, and their spirited remit was to try and knock the river back into shape. Ian wanted people to respect this natural resource. He was saddened to see abandoned bicycles, bedsteads, and the like, just chucked in there and left to rot. He was also upset to see people fishing out of season, destroying the delicate natural balance. Working with the community he decided to try and do something about it himself, as he felt very let down by official channels. Did he make any progress? well that's a big and very long topic. Initially Ian did make considerable progress, and was much lauded in the press for his positive action, but officialdom eventually got itself in gear and took over, promising a more positive approach to the river, but... not to everyone's liking alas! no, not to everyone's liking. The story of the river will run and run...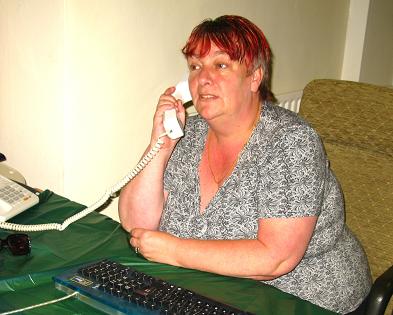 July 2009: Mandie Sehmbi
moved to Dover 10 years ago from her home town of Walsall, seduced by a life on the ocean waves, well actually on the P&O Burgundy in fact….. and has been here ever since. She is one of Dover's hard working and exciting army of volunteers. Mandie ,to those who don't know, runs the Dover Carnival Association Limited, the group that puts on Dover's annual carnival, that festival of fun, colour, music, and frivolity, which attracts crowds from all over Kent into the town. It is always one of the highlights of summer here in Dover , the weather is always good, yes really, and there are lots of spin off parties and so on, so it's an all round great social occasion. DCAL also run the annual Miss Dover contest which is held every year at the Town Hall. This event gives an exciting opportunity to local girls to get involved in the glamorous circuit of regional carnivals. "the kids love it" says Mandie.
Mandie did not have any grand plans to take over and run DCAL, but found it thrust upon her when a number of previous management personnel were unable to continue with it for a variety of reasons. As they say…some are born great and some have greatness thrust upon them. Mandie did not want to let the operation just fade away, so grabbed the reins with gusto. Former director Sid Perkins is nowadays abroad, but still has a role as Honorary President, but the day to day hard graft and enterprise is all down to Mandie Sehmbi.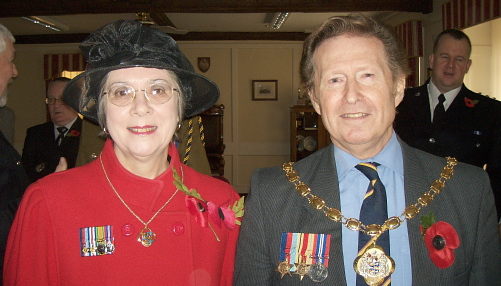 April 2009: The picture above was taken on Remembrance Sunday 2008 and of course features the current DDC Chairman Cllr Bernard Butcher and his lady wife Margaret. Bernard is a popular figure with a huge and illustrious list of credits to his name and many of you will have seen him at the various functions around the district where he is the figurehead representative of Dover District Council. Doverforum has photographed Bernard everywhere from the various celebrations at Pencester Park, to further functional days at Connaught Park, to the Olympic Flag /Flame arriving on Dover seafront and so on. However to represent Bernard in our Who's Who Hall of Fame we have chosen just a simple picture of himself and his wife at the Maison Dieu House.

And speaking of his illustrious career, his credits role off the tongue in fine style. Bernard has been a Conservative Councillor for 17 years. He was Mayor of Sandwich for three years, Deputy Mayor of Sandwich for a further three years, he was also Speaker of the Cinque Ports, and of course, as mentioned, is the current Chairman of Dover District Council. Rumour has it that he will be continuing in the role for a further year too. So to say that Bernard Butcher has served the community for most of his adult life would not be an understatement.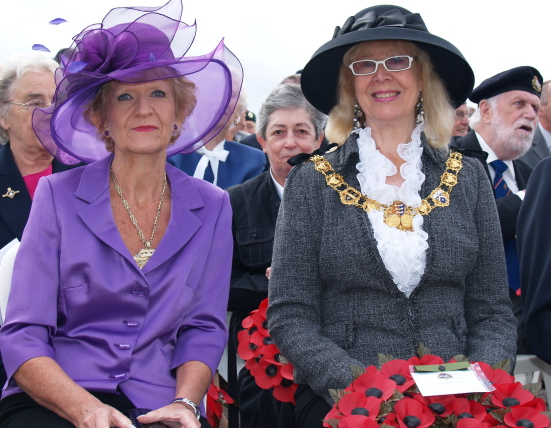 This photograph was taken comparatively recently, last november in fact, and shows our current Mayor Diane Smallwood in attendance at the official unveiling of the new statue along Dover seafront. That's Diane on the righthandside. As I write..April 2009, Diane's reign as Mayor is reaching its twilight and her eventful and successful year will soon be drawing to a close. The lady is very popular with almost everybody and that's not always easily achievable, but obviously a popular Mayor is halfway towards being a good one even before proceedings begin. The lady on the left is Jean Farrell who has been Diane's Mayoress and between them they have certainly cut an elegant dash at all events, as you can see from the picture above. Diane became a councillor with Dover Town Council in 1996 and with Dover District Council in 1997. She is still with both councils, so still serving the community. She has been Mayor 3 times, one time while Speaker of the Cinque Ports, and Deputy Mayor 3 times...and who knows she may even do it again one day.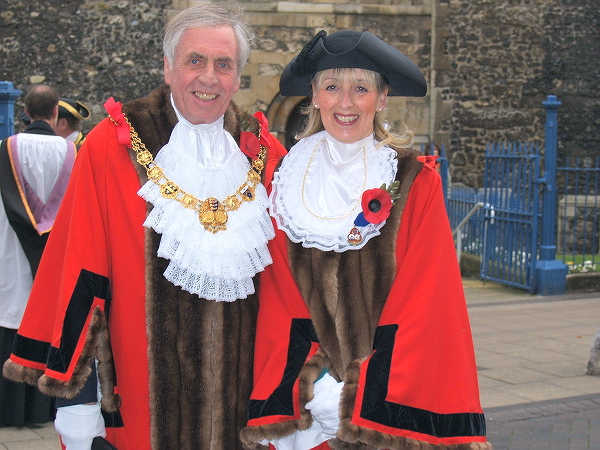 This picture was taken in November 2007 during the Mayoral reign of Bob Markham, and shows Bob and former Mayor Jan Tranter outside St Mary's Church in central Dover. They paused briefly for the picture after the memorial service for Remembrance Sunday. We are featuring Jan Tranter on this occasion and will return to Bob at a later date. Jan is a very popular councillor. She has been serving the community for 8 years now, firstly as a councillor on the Dover Town Council, and very soon after joining DTC, became a councillor with the Dover District Council too. She remains to this day on both councils, working hard for the community. She was married to Ken Tranter and for a time they were quite the eye catching political duo. Ken became Mayor and Jan followed into the role immediately afterwards ( year 2006/2007). Sadly soon after all the mayoral high flying the marriage broke down. Ken withdrew from politics but Jan continued with both councils. Very recently Jan was selected as the incoming Deputy Mayor by her colleagues on Dover Town Council.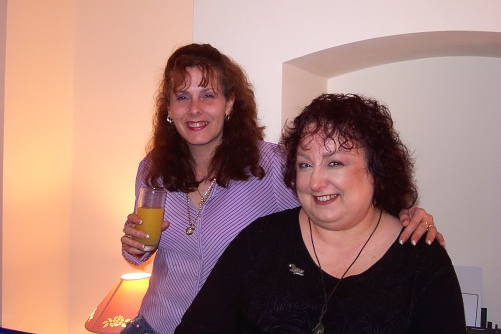 This is sadly more a case of 'Who Was Who' rather than 'Who is Who' because the lady on the right hand side is dead, cut down relatively suddenly in the full flower of mid life, leaving a husband and son. She was known to one and all on Doverweb and Doverforum as Secret Squirrel and was always up for an animated discussion about all things to do with Dover. A passionate individual with strong views but great fun too. The picture above was taken at one of the Doverforum parties in the year 2005, in fact it was a St Patricks Day Party if I remember right. Very topical. Her name was Sara Hayman.

The girl on the left was known as Tvamp to one and all on the Forum, and was very active out and about in the community. She was one of the pioneers of the early River Dour clean up campaigns for example, and she also ran a children's charity group alongside Heidi Barter, a group that taught children, through the managing of an allotment (and much much more), all about the fun side of horticulture. Her name was Tracey Pullen. Tracey moved away from Dover soon after she re-married. These girls were exceptional members of the community in 2005.