8 February 2009
The Picture Files :
Not always in chronological order but a general glance through our picture files.
See also the previous pages.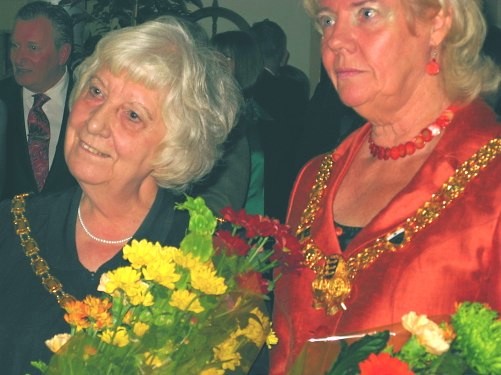 October 2011

-
here we have the two top civic dignitaries at the moment of writing, left to right Cllr Sue Nicholas Chairman of Dover District Council and the Mayor of Dover Cllr Ronnie Philpott, seen here above accepting flowers at the grand opening of the Hythe Bay Seafood Restaurant on Dover Seafront. A grand occasion indeed and here the ladies look equally grand and glamourous. There is also another picture below from this event and a full spread in our archive All Recent Features.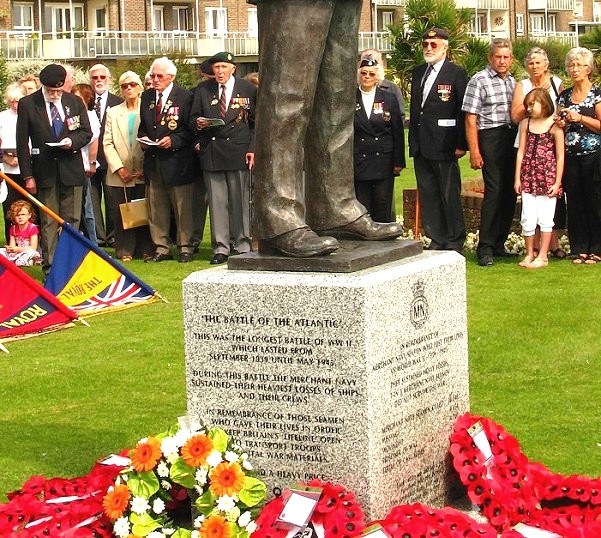 Merchant Navy Memorial Day September 2011
It is always a moving and colourful ceremony on the seafront and well attended.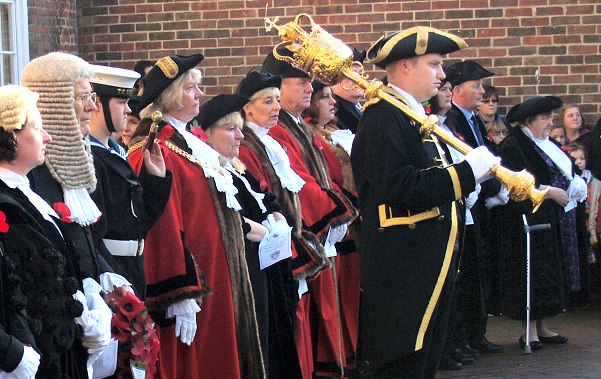 Remembrance Sunday Nov 2011 : Members of Dover Town Council in solemn mood as they listen to the Service for Remembrance Sunday. Those in the red gowns are either the current Mayor... Cllr Ronnie Philpott tall female figure centre left, or previous Mayors. Previous Mayors shown are Cllr Jan Tranter, Cllr Gordon Cowan, Cllr Sue Jones.

There are further Remembrance pictures in our main archive which is called ALL RECENT FEATURES. You can find this in our menu left. See copy 211 there for the Remembrance pictures.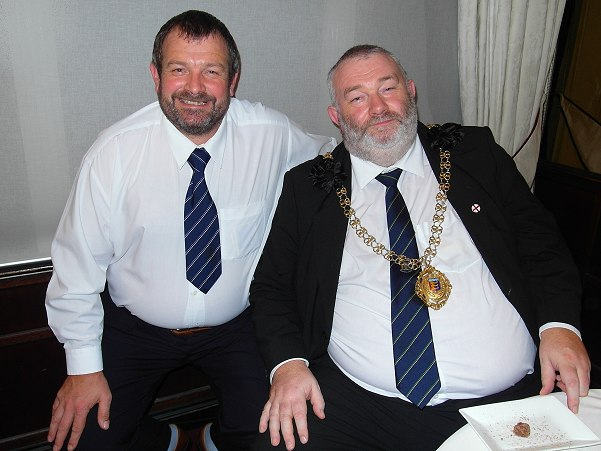 The Cronk Brothers Nov 2011 : There is no mistaking the family link between these two guys. Yes indeed you can certainly see the genetics at work. These guys are very familiar to many..being none other than the Cronk Brothers from Deal. On the left we see Dave, and on the right, a marginally more familiar face, Jim. Both are councillors at Deal Town Council and Jim is also a District Councillor at DDC.

Both guys are very much involved in community life. Dave is chair of the local Allotments Working Group and of course is a newly elected Cllr at Deal. He is also a school governor at Warden House and to top it all...he is also that much maligned species...an FA Referee! Despite giving so much time to the community Dave also a real job working for Priority Freight at Whitfield.

Jim is currently serving his 3rd term as Mayor of Deal. He has been a Councillor for more than 10 years representing Sholden, Deal. He also has been a school governor at Deal Community and Sholden Primary. Again Jim is clearly very keen on serving the community as we can see. When he gets some time to himself, which is'nt very often, he enjoys reading novels, his great passion. Picture was taken at Mayor Jim's recent charitable fundraiser.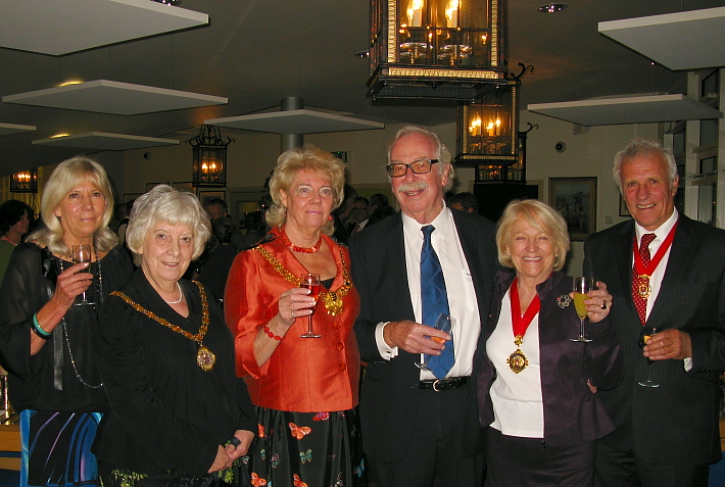 OCT 2011 : Hythe Bay Restaurant Opening - Dover Seafront.
As I write there is a full feature on our current frontpage (Full feature on grand opening now in our All Recent Features archive see menu)...so more pictures there. A spilloff picture now added here above on this picture page. From left to right.. Pauline Kennedy event arranger Eastwell Manor, Cllr Sue Nicholas Chairman of Dover District Council, Cllr Ronnie Philpott Mayor of Dover, Turrloo F Parrett Chairman of Eastwell Manor group, Cllr Paulina Stockell Chairman of Kent County Council, and Robert Stockell accompanying Paulina as official escort. All attended the opening of the exciting new award winning seafood restaurant in the Dover Seasport Centre. Picture: Colette Boland.

Note: We are changing these pages and moving away from the straightforward Who's Who remit previously pursued. We are now widening the content, widening the scope, so that we can feature additional pictures here on these pages. Some old, some new. If a member of Doverforum you can add a comment below.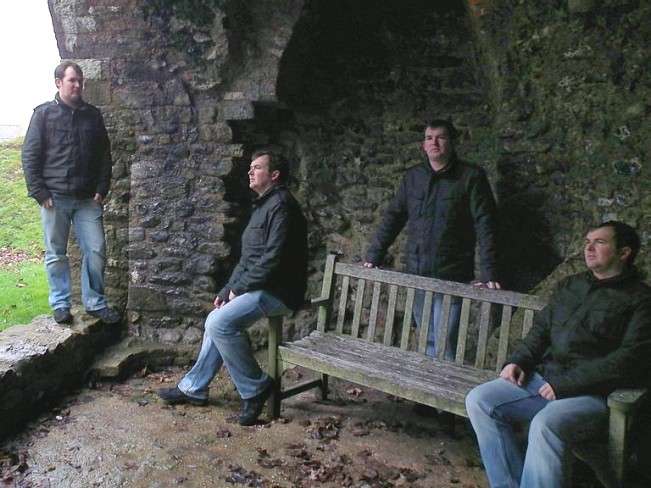 Feb 2011:
Paul Wells,
known to all of us here on Doverforum as Scotchie, is beginning to make a big name for himself as both an historian and a local photographer. His amazing photographs have recently caught the eye of the commercial world following his frontpage exhibition here on Doverforum just a week or two ago, particularly the ones in stunning black and white. The pictures were very successful and very well received by one and all. But of course Paul is not just a photographer..no indeed. Many readers will already know of his recent book too, which is of immense interest to those interested in yesteryear Dover.
The book is called Dover Past and Present, published in 2009 by the History Press, which Paul aka Scotchie co-wrote with Jeff Howe. It is a terrific mixture of past and present photographs with the emphasis on the past, and includes fascinating details of just how life used to be here in Dover. There are more books in the pipeline too.
But despite this local expertise, 35 year old Paul does not come from Dover at all. He is not a local but an interloper from the sunny climes of Hampshire, that far off land of country squires and apple greenery. Whereas most young men are urged to
'go west young man', Paul came east and ended up living in Margate here in Kent. However he did move a trifle west in the end and is now happily resided in the snug confines of our near neighbour Deal.
As mentioned Paul is an avid historian. In this vein over the years he has been a tremendous contributor to this website, supplying pictures of immense interest and with bags of detail to go with them. So much so that we now have quite a group of enthusiastic historians contributing with an interest primarily in Dover's past.
Long may it continue.
But Paul gets about in other areas too. He is Treasurer of the Western Heights Preservation Society which looks after the wellbeing of that particular area, and of course as many will know, this Society also puts on those exciting re-enactments. Paul also finds time, just where does he get the energy, to be a Friend of Dover Castle and a member of the Kent Underground Research Group.
The picture above is a self portrait by Paul 'Scotchie' Wells and yes there are four of him!
Your eyes have not deceived you.


Pictures shown on these pages must not be reproduced without permission from doverforum.com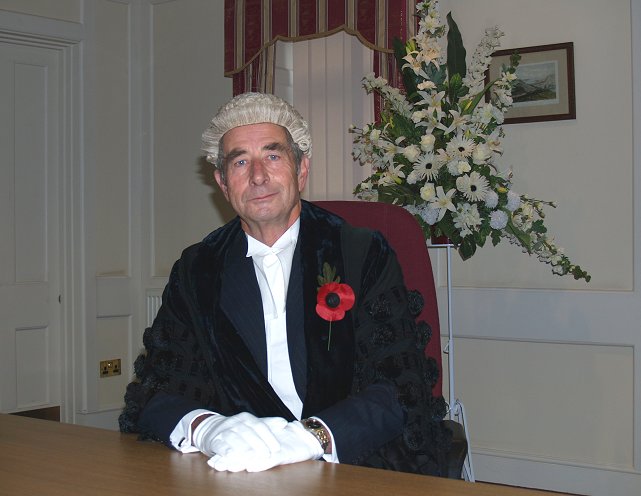 December 2009 : Mike Webb is a very well known and popular figure here in Dover. He has in recent times held two very high profile positions in the town, the first being Dover Town Centre Manager, which he held for a number of years, in fact from 1999 to 2005, and he followed on from this by taking up the equally significant role as Town Clerk at Dover Town Council…this is a role he fulfils currently.

In his days as Town Centre Manager , Mike showed great skill at holding the business community together. Many businesses joined the scheme, including ourselves here at Doverforum, and the whole concept motored along quite well, but to some extent was always hampered by a lack of solid funding. Sadly TCM was burdened by the need to raise most of its own finances, which of course would have hampered its daily effectiveness to a degree. Despite that particular handicap a great many advancements were achieved on behalf of local business.

After Mike's departure from this role, an effort was made to keep the TCM concept alive but it was difficult to replace such an effective persona as Mike Webb's, and the efforts to keep it running did not turn out to be successful. Even though by this time Mike was enjoying his new role, he was nevertheless was very sad to see the decline of TCM. Since then Dover has existed without any co-ordinating business body at the core of things, although very recently the Chamber of Commerce has begun a new initiative with the Dover Business Support Manager idea(Roger Walkden), an idea which has been received well.

Mike was born in Dover but left the town to attend University, and from that time on he travelled widely to more than 50 countries and over the years accumulated considerable business experience along the way, having at one time ran his own international business which endured for more than 20 years. He was then involved in training personnel for the likes of Eurotunnel , Seafrance and Hoverspeed and spent 5 years living in France doing just that. Mike returned to Dover, was married to Carole by then, and raised kids here in the town because as Mike says… " Dover is a great place to bring up kids!"

In no time at all Mike then found himself in the Town Centre Manager job which brings us full circle. Now he enjoys the somewhat quieter role as Town Clerk but is just as effective.

"Town Clerk is a very different job" says Mike," largely out of the public eye. I am the 'proper officer' which means that I and my staff advise the Council but do not make policy or get involved in politics. It is my legal duty to carry out the democratic will of the Council." Long may he continue.