Swam the Channel in 13 hours and 59 minutes
Joint 432nd fastest time out of 692 special category swims (equal with 1 other)
Date: 23 July 2012
Country: UK / Australia
Category: Special Category (5 swimmers)
Route: England > France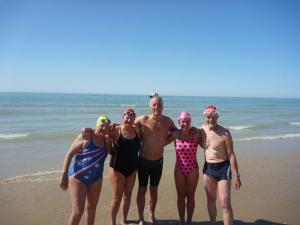 Organisation: Channel Swimming & Piloting Federation
Pilot: Lance Oram
Observer: Geoffrey
Escort Boat: Sea Satin
Additional swim information:
Started at 1:40am from Samphire Hoe and landed just NE of Wissant.

The team was pulled together by Ellery starting with swimmers from South London SC, based at Tooting Bec Lido. Chris Pitman is from Portsmouth and has a solo planned for September 2012. Irene Keel has competed at World Masters Games competitions representing Australia. Duncan is a former multi World Masters Champion and European record holder who made a rapid transition to open water swimming as a late addition to the team.

The average age of the swimmers was 66 years.