Swam the Channel in 16 hours, 50 minutes and 58 seconds
The 2,064th fastest time out of 2,369 solo swims
Date:
3 September 2010
Country:
Germany

Age:
Unknown
Category:
Solo Swim
Route:
England > France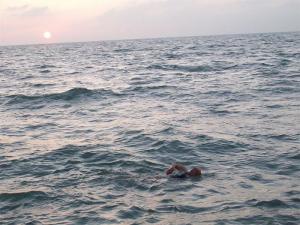 Organisation:
Channel Swimming & Piloting Federation
Pilot:
Eddie Spelling
Observer:
Unknown
Escort Boat:
Anastasia
Additional swim information:
Second solo swim (by coincidence 25th Channel anniversary), as part of a special "Channel-Triathlon" Dover-Calais-Brussels-Aachen (5 countries): solo swim without wetsuit, 7 hours rest, 300 km biking, 3 hours rest, 85 km running (2 marathons).
More information at: www.channel-triathlon.com
Dedicated to the ideals of the World Harmony Run (www.worldharmonyrun.org) and the International Year for the Rapprochement of Cultures of UNESCO (http://www.unesco.org/en/rapprochement-of-cultures/).
Website:
www.channel-triathlon.com
Click here for more information about Vasanti Niemz...