Swam the Channel in 16 hours and 23 minutes
Joint 2,027th fastest time out of 2,428 solo swims (equal with 5 others)
Date:
8 September 2008
Country:
UK

Age:
42
Category:
Solo Swim
Route:
England > France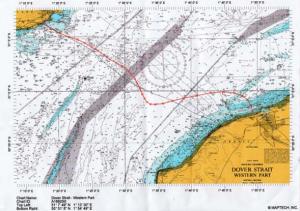 Organisation: Channel Swimming & Piloting Federation
Pilot: Lance Oram
Observer: Nicola Millichip
Escort Boat: Sea Satin
Additional swim information:
The second photo shows Douglas's sister-in-law, Frances Spall, whom he swam for. Frances died aged 56 while he was swimming the Channel.
Click here for more information about Douglas Osborne...