Swam the Channel in 17 hours and 1 minute
Joint 2,088th fastest time out of 2,373 solo swims (equal with 1 other)
Date:
9 September 1985
Country:
Germany

Age:
Unknown
Category:
Solo Swim
Route:
England > France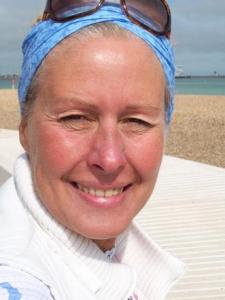 Organisation:
Channel Swimming Association
Pilot:
Dave Whyte
Observer:
Unknown
Escort Boat:
Unknown
Additional swim information:
Vasanti Niemz, born in 1956, lives in Heidelberg. Since swimming the Channel, she has also completed the 26.4km Zurich lake marathon swim several times (
http://www.srichinmoyraces.org/ch/veranstaltungen/zhlake
)
as well as several ultra-triathlons (Lensahn, Canberra). Vasanti is also a member of the Sri Chinmoy Marathon Team (
http://www.srichinmoyraces.org/
).
In 1989 Vasanti was part of a relay team to swim across the Channel, and is planning to come back for another solo swim.
Click here for more information about Vasanti Niemz...