Matthew Webb - Channel swimmer
1st person to swim the Channel.
Matthew has made 1 solo Channel swim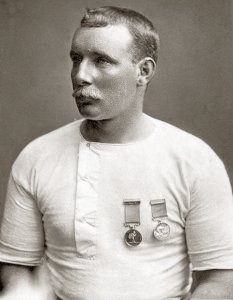 Nationality: British (English)
Gender: Male
About Matthew:
Matthew Webb was born in Dawley, Shropshire on 19 January 1848 and was one of 12 children to Thomas and Sarah Webb. His father was a doctor, and after Matthew's birth the family moved to Coalbrookdale.

He served a 3 year apprenticeship as a seaman with Rathbone Brothers of Liverpool, and during his time as second mate on Cunard's 'Russia', Webb became a national hero after diving into the sea mid-Atlantic to rescue a man who had fallen overboard during a voyage from New York to Liverpool. He married Madelaine Kate Chaddock on 27 April 1880 in London, and the couple had two children, Matthew Junior and Helen.

Webb died on 24 July 1883 whilst attempting to swim across the Niagara River below the Niagara Falls. He had been tempted by a prize of £12,000, but was swept away by the currents and drowned. A memorial to Captain Webb stands on Dover seafront.
Channel Swim