29 August 2008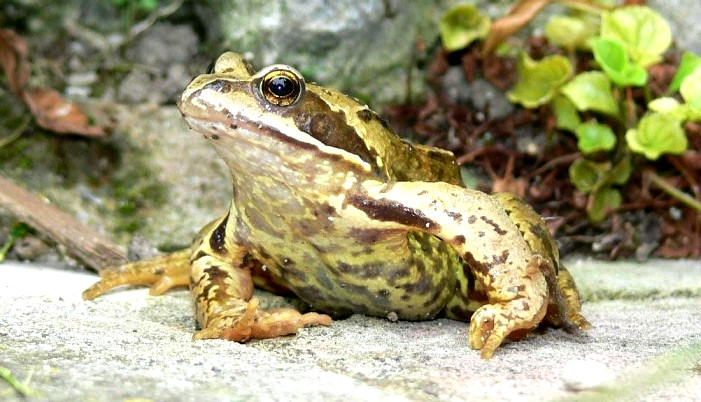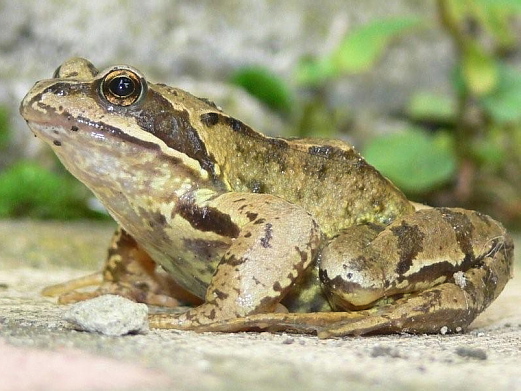 At Home with the Amphibians!
Aren't these pictures of our amphibian friends just perfect.
Our intrepid naturaliste Phil Eyden has brought us these crowning glories to his Nature Page No.2. Out in soggy pastures on all fours amongst our watery creatures, Phil gets that trusty camera of his working to total perfection. The close up work is marvellous when you consider these are moving living creatures not given much to posing. You can clearly see hear that Phil has a delightful touch and is in much harmony with his natural surroundings.
These pictures finish Page 2 off and complete a journey which took Phil an age. And without much huffing or puffing the page has had more than 7,000 visitors so it has been quietly appreciated by many people. We will encourage Phil to try and give it a fresh go once more now that we have arrived in 2009. But we may give him a little time off til Springs springs eternal.Then with fresh enthusiasm, deerstalker hat, knee britches and camouflaged rucksack, he will be back in the breach.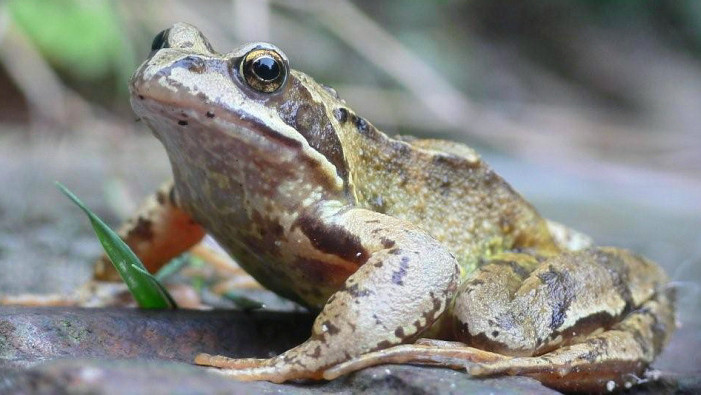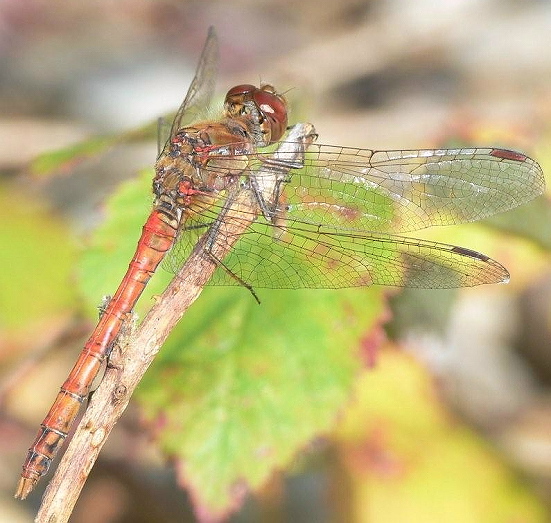 * *
Catching the last rays of Summer with
Phil Eyden.
Summer is over now, we are all braced for the chilly winds of autumn. But these new pictures by Phil Eyden take us back to those heady days of warm golden contrysides and rolling blue surf.Although in real terms only a short while ago, for many it is beginning to feel like the distant past. Balmy family days of Pimms and picnics and country rambles are long gone now.
These latest pictures by Phil capture the colours of summer in fine style and as ever are a delight to display here. There is one final batch of pictures to add in the coming weeks to make this page complete. Although we may see if we can force him back into his knee britches and deerstalker hat, and get him out into the frosty air to capture the colours of autumn and winter. Different colours but still interesting of course.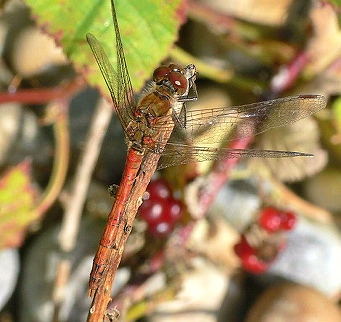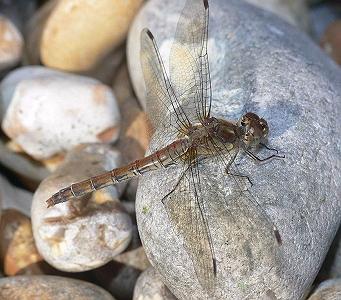 All three latest pictures are of the Common Darter Dragonfly and very beautiful pictures they are too of such a gentle creature. Remember we still have three or so pictures to go to make the page complete....so there is more to look forward to.

Comments Welcome Below.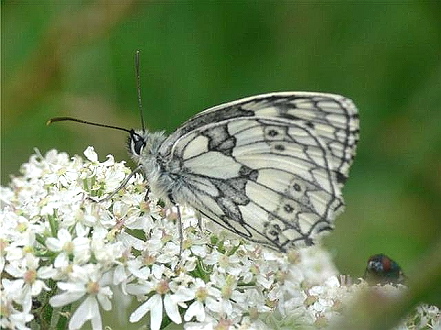 ...and the earlier story.
We have more pictures to add and when finished this will be Phil Eyden's Nature Page No2 and will be added to main menu.
But Phil goes from success to success with one tiny gem after another. Yes I can see him now..in deer stalker hat and knee britches, stealthily moving through the shrubbery with deer like caution, until he spots his prey on weed or flower. Then he pounces with his macro in fine style, but oh so gingerly, for fear of disturbing the sensitive prey. He swoops 'til he has his scoop in the bag, so to speak. Not like the butterfly collecters of old, but bagged in his ever faithful camera.
The beautiful picture on the left is of the stunning Marble White Butterfly...and what a cracker it is too!
Below left we have the Ringlet gently resting on a leaf and to its right we have a Baby Grasshopper. Hard to capture a Grasshopper as the delightful blighters just wont pose. They are forever leaping about. Most infuriating.. so well done Phil for capturing this one. All are fantastic though and wonderful additions to the page.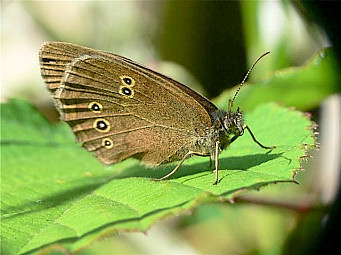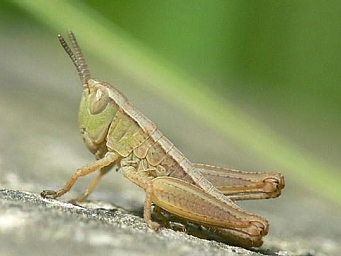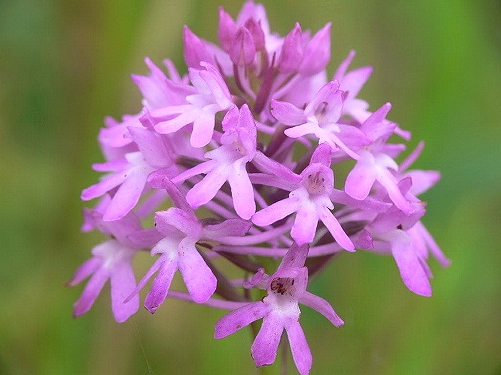 Onward goes our intrepid rover, onward through life's undergrowth, furrowing here, ferreting there, down hill and oe'r dale, past creepy crawlies and things that bite and sting, until he comes across this latest gem of nature in the pic on the left. This is one of the real beauties of Western Heights and always to be treated with love and respect..the Pyramid Orchid. Phil whips out his device upon seeing this gorgeous specimen and records it both for us here on Doverforum and for posterity, and a lovely picture it is too.
Well done that man Phil Eyden.
Keep going Phil you are doing a sterling recording job of the nature we have to hand. Many of us are totally unaware of the treasures we have right here on our doorstep so it is all very enlightening.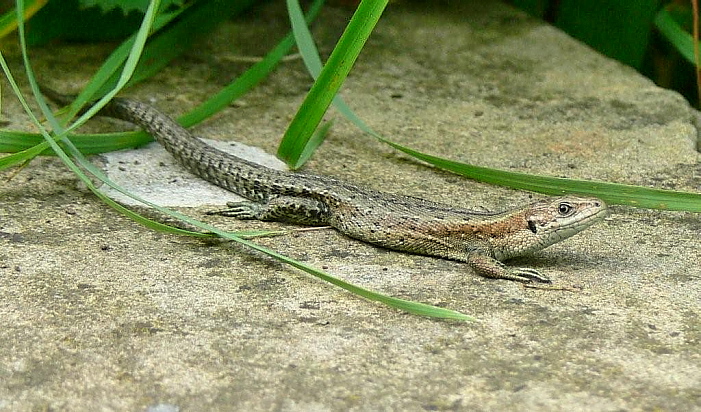 Wow! what a picture.
I know, I know...just when you thought it was safe to go back in the woods, up pops this slithery creature to frighten the horses. Well I'm scared anyway...dont know about you! But seriously though readers, I believe these guys are both harmless and friendly. Our ace 'roving man on the spot' of legend, the ever so 'au naturelle' Phil Eyden, managed to get out and about through shrub and thicket to bring us this his very latest shot. And an absolute cracker it is too. Phil has had trouble this year getting as many pictures as he used to, due to the abysmal summer, but nevertheless talent will always win through and Phil has hit gold again with this pic....and we may have more in the pipeline so hold your breath.
The picture is of the Common Lizard and it was taken at Cowgate Cemetary. Well done Phil.
Comments Welcome - see below.